Why Not?!
A howl of a special celebration is guaranteed!
Intending to include your beloved Fido or Kooper or Moxie in your wedding day? You certainly can. After all, there are tons of beautiful online images showing pugs in bowties, golden retrievers walking down the aisle and schnauzers posing with aplomb alongside a smitten bride and groom.
But, as dog lovers and been-there-done-that brides and grooms know, pictures seldom tell the whole story. If you want your special day to run smoothly—as opposed to you running after the dog who'd chasing a squirrel, mid-ceremony—planning and preparation are key.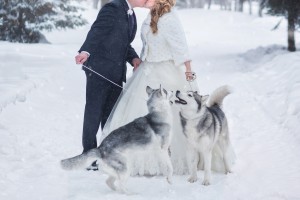 These tips should help you get your doggie treats together for the big day:
Cover all the fire hydrants … err .. bases and make sure you've got approval from the venue, the reception site, the officiant and an other officials or people involved. You don't want to have everything all set and then, on the day-of, discover the minister is allergic to dogs or the site is a no-dogs-allowed zone.
Designate a mature, go-to dog whisperer who will transport Pixie, take care of all of her needs on site, walk her, feed her and whisk her home when it's time.
Give your dog whisperer the tools – leash, treats, a list of commands that are obeyed, water and food bowls—to be successful and be explicit about what to watch for. Dogs can be sneaky and the sweets table or half-eaten meals can be very tempting.
Determine what role your dog will play based on his needs and temperament. If he's not good in crowds or with strangers, consider limiting his involvement to the picture-taking part of the festivities. If he's not comfortable with loud noises and lots of activity (such as dancing), perhaps he can be a ring bearer and then head home after the pictures. If he's laid back, very friendly, good with crowds and beloved by your wedding guests, well, it might be possible to include him for much of the day. That very much depends on the venue, the number of guests and the style of wedding.
While an outdoor venue may seem to be an ideal, dog-friendly option, be aware of potential distractions, such as squirrels, chipmunks, birds and scents. You don't want a barkfest as you're about to say, "I do."
Take your dog to the venues a couple of times in the days before your wedding, so that he will know what to expect and be comfortable with the setting.
Enjoy a pawfectly fun day.