By Rev. Alan Viau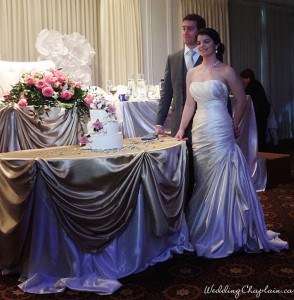 It has been a long time since I have been just a guest at a wedding. I pride myself in never having missed a wedding that I have officiated. But as a wedding guest, I was almost embarrassed to be late for the ceremony.
I have been performing weddings for 11 years and about 1000 ceremonies. I have never missed a wedding. It is a record for which I am proud. I guess I've learned the best routes in and around the the city of Ottawa. I can make a wedding anywhere within the Green Belt in 30 minutes.
I've witnessed guests sheepishly sneak into the wedding ceremony late. Their embarrassment is evident as they try to reach a seat unobserved. Some try to swish by the bridal party as they are starting down the aisle.
Fast forward to last weekend. I was invited as a guest to a friend's daughter's wedding in Toronto. I had no obligations since the groom's uncle is a judge and was performing the ceremony. My sweetheart and I stayed at our daughter's place.
I diligently Google Mapped the best travel route and time. I figured that on a Saturday, traffic would usually be light and that I should be able to make the venue in about 50 minutes time.
No sooner had we arrived at the major highway, 401, to travel to the venue that we discovered it was at a pace that would make molasses in January flowing downhill seem fast. I saw the time ticking away at me and knew that if I stayed the course we would be late. Argh!!
Since I had worked in Toronto for many years, I knew alternative routes. Although it seemed like I was taking a long way around, I figured we would be better off. Sure enough a quick trip on the 409 to the airport and north on the 427 and a hop on the 407 brought lighter traffic.
Screaming at a 150 km/h pace in a little red Kia Rondo, we arrived 5 minutes late at the venue. Luckily they had planned to start 15 minutes past the invitation time for just this circumstance. We were pleased to witness the short 7 minute wedding ceremony. Whew, any later and we would have missed the whole thing.
I appreciate the woes of those I see coming in late to the ceremony. Plan a later start than on the wedding invitation if:
1- You are out in the country-side where GPS instructions are not reliable. Guests will get lost.
2- There is a history of unpredictable traffic congestion or construction that will slow guests up.
3- You have a Friday evening wedding. Guest under-estimate the Friday evening traffic in trying to get to the venue
4- You are downtown and finding parking is an issue. Guest need to find a spot and walk to your venue.