Today's modern wedding has the ceremony and reception in one location. You may be faced with a boring wall as a backdrop to your ceremony. Adding draping that coordinates with your reception will really wow up your ceremony.
I perform wedding ceremonies just about anywhere. When it is outdoors, nature provides glorious canvases as backdrops to your ceremony. Often, I'll conduct a wedding ceremony indoors at a hotel. The couple choose to have the ceremony and reception in one venue.
I love this trend of having the ceremony and reception in one location. There is no lag time between the ceremony ending and cocktails. Out of town guests won't get lost in transit. Everyone is at their final destination. It also allows for the ceremony to be decorated with the same theme as the reception. Instead of two separate events, you have one continuous experience.
The couple will most commonly have an arch available or two columns with flowers to delineate the ceremony space in a large room. Overlooked is what is behind the arch or columns of flowers. You are looking at the hotel's wallpapering . Ugh! Boring! Imagine your wedding photos with that backdrop.
Adding a draped backdrop is not expensive and will add a big WOW factor to your wedding ceremony. One of the best I've seen was created by Kennedyevents. The wedding ceremony was held where the walls had paintings of tornadoes hung. Not exactly a great subliminal message to have for a wedding. Shannon added a draped backdrop, back-lighting and some decor that matched the reception. Wow – what a transformed the room!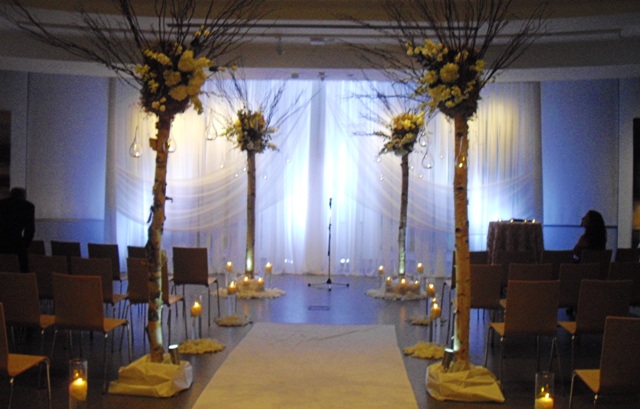 You don't have to go to this extent. Simply adding a drape will have an amazing effect.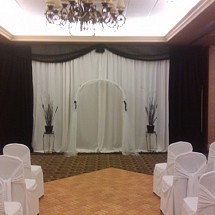 Photo by Mastermind Events Rental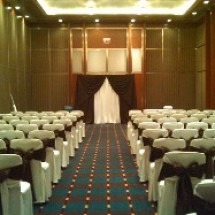 Photo by Mastermind Events Rental
At one New Year's Eve wedding, I suggested to the bride and groom get a drape. Again the transformation was fabulous.

New Year's Eve wedding. Photo by Alan Viau
You can see the boring wall we would have had if the drape had not been there.
With weddings and receptions being held at the same location, you have an opportunity to coordinate the decor for an ultimate experience. Adding draping to your ceremony provides a cost effective wow factor at any wedding.