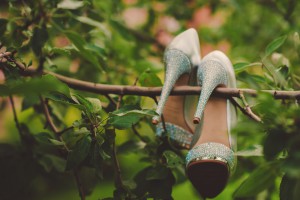 Whether you're a first timer, mother of the bride or you've been down this aisle before, take note. A picture perfect, fairytale wedding isn't the stuff of dreams. It's all in the details. Dream big, then get down to business. Careful planning, clear communication, lots of time and organization add up to an extra special "dream day" that runs smoothly.
When you're the ones saying the "I do"s, you're in charge – and responsible for – all the festivities and fanfare. When you're parents of the bride or groom, you have a crucial role in making the big day happen. That includes helping to coordinate, select, set up and finance the innumerable arrangements and purchases that create a true celebration of love.
Unless your idea of nuptials is a quick trip to city hall and a parking lot party with burgers from a drive-thru window, don't dawdle.
Many wedding professionals suggest the planning should start as soon as the decision to marry is made. They also recommend you set a date that allows you enough time (and then some) to ensure you can have the memorable day you want. That means at least nine months, preferably a year.
Planning makes perfect
First off, buy a calendar and a date book and sit down to talk about it. Get a game plan together. Discuss your hopes and ideas. What's your vision? An intimate ceremony on a beach in an exotic locale, a swanky, evening affair or a big, joyful soiree with a guest list of 400?
Indoors or out? Formal or casual? Religious or secular? Children and babies or adults only? Are colleagues, neighbours and business associates on or off the list? What about tricky situations and circumstances, such as blended families or estranged close relatives?
What's possible and doable? What are your shared priorities? What's your budget?
Decide.
But be flexible. It is possible to compromise. While you can never please everybody, it's a wise idea to try and keep the peace. After all, whether you're the parents or the bride and groom, you're entering a new relationship with another whole family.
And, mom and dad, if you're financing the proceedings, it's reasonable to expect a say in what happens – and how. On the other hand, if you're a mature bride and groom footing your own bill, family members, particularly your grown children, still need to be considered.
Be positive, practical and make it a personal. This is about telling the world you love and care.
When Courtney James* married her true love last summer, she, her betrothed, her mother and mother-in-law, siblings and soon-to-be inlaws had a lot to do with making the day a success. "It was a team effort. I'm good at giving orders," she jokes.
Even the weather cooperated. The result was a wonderful occasion, memorable for its sparkle and abundance of special touches.
You can do it too. Courtney's advice? "Use the phone. Do as much as you can in the first few months — and ask for help."
Once you've decided the type of wedding you want, do your research, visit different locations, shop around and select sites and services that suit your needs best. To avoid disappointment, book early. Popular spots and dates are generally snapped up well in advance. That's why the sooner you start the process, the better.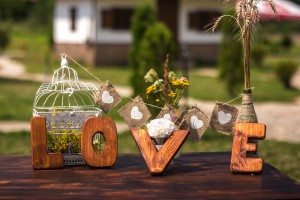 The early (love)bird catches the worm
Locations for the ceremony and dinner/reception should go to the top of the booking priority list. And don't forget the honeymoon (or a getaway for parents). You deserve it, after all this effort.
What's more, consider signing up for a gift registry or two. It's a win-win choice. Such a move makes life easier for both gift givers and recipients. Be sure to select items in different price ranges, since the financial situations of your nearest and dearest are apt to vary.
Set a schedule – and stick to it – for booking or purchasing services and items ranging from the officiator, photographer, videographer and DJ/band to the caterer, flowers and cake. Wine making, equipment rental, limousine service and hotel rooms for guests also go on that to-do list.
Again, key items such as the invitations and the all-important dress/outfit(s) should be selected in plenty of time to allow for adjustments.
Okay, now you're starting to get the wedding picture. The details involved in putting together and pulling off a dream day are practically endless.
The first thing to remember?
There's no such thing as absolutely perfect. There will be glitches and quandaries, guaranteed. Confetti or rose petals? Open bar or wine on the tables? A soloist? A midnight buffet? A minor crisis over attendants and their attire?
Don't drive yourself crazy – or to divorce before you get to the alter. Planning, coordination, delegation and a sense of humour will ensure they're no big deal.
Ask for help
The second thing to remember?
Planet Wedding, where you tend to live and breathe in the months preceding the ceremony, is teeming with experts and professionals who have done and seen it all before. Benefit from their expertise. Don't be shy. Ask questions. Be honest and assertive about your budget. Keep notes. Get signed contracts. Read the fine print. Make sure the day, date, time and location are correct. Call back (sooner rather than later) to verify that you're getting what you paid for, as agreed.
Is there a cancellation policy? Check.
And make sure to keep all your contracts, receipts and lists in one place. Better yet, make copies of everything.
Yes, there's a lot to do and think about, from table favours and gifts for attendants to thank you notes and a rehearsal dinner. Take the time to talk about it, share the tasks and enjoy yourself.
Regardless of the colour scheme, the guest list or the venue, this is a day to look forward to. If you anticipate it with joy, it's one that will shine.
* Name changed by request.