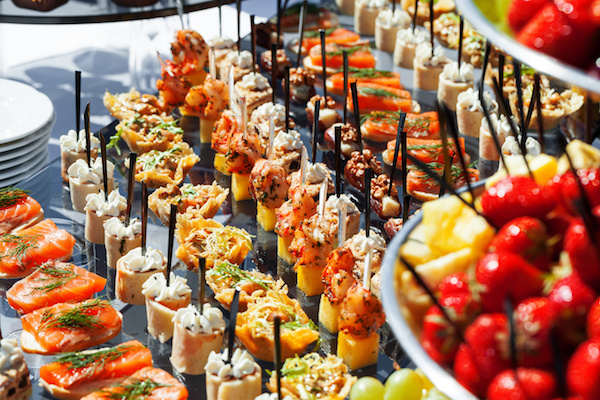 Charm guests with the ultimate winter wedding menu
If you're planning a winter wedding, check out our fresh takes on comforting favourites, restaurant-style presentation, and fresh-from-the-hearth menu ideas. Elegant eats? Absolutely.
Cocktail-hour bites
During the colder months, hearty classics are in demand. Caterers can fulfill that desire with whimsical takes on childhood favourites. For your cocktail hour, consider passed trays of bite-sized breadcrumb-coated mac and cheese; demi forks of spaghetti and meatballs (penne pasta with a mini meatball and a drizzle of Bolognese sauce); or Panini lollipops (Panini on a stick). Another top-ranking winter hors d'oeuvre: shot glasses of hot soup, such as tomato bisque, garnished with grilled triangular cheese bites.
Soups and salads
Soup is a no-brainer for the first course of a winter wedding meal. Some of today's favourites include butternut squash with pumpernickel croutons; potato-leek with amaretto crème fraiche; or rich cheddar potato. A winter salad calls for extra seasonal additions, such as cranberries, pears, and walnuts. Can't decide whether to do soup or salad? Go with one of the season's newest menu trends: soup-and-salad combo plates. Have your caterer place a small bowl of soup on one end of a rectangular plate and a cluster of salad on the other. Another option is to place soup in the centre of a round plate and surround it with salad.
Main entrées
Especially appropriate for winter, top wedding planners are transforming the wedding meal into something more inventive and gourmet, à la what you'd find in a four- star eatery. Come entrée time, classic filet mignon continues to be a favourite, but in place of roasted spuds on the side, consider a risotto cake, a purple potato pancake, or wasabi whipped potatoes. Or opt out of the traditional steak and potatoes and serve a tasting menu – or "degustation" – of six or seven small courses. For example, you might start with a pumpkin soup served with an Asiago-truffle mac and cheese muffin; followed by a fish course, such as lemon- baked salmon; and then a meat course, such as horseradish- crusted lamb chops.
Veggie entrées
Vegetarian and low-meat diets have begun to take centre stage, and many brides and grooms are offering a veggie entrée for guests. Whereas vegetarian options may once have been an unexciting afterthought (like a plate of mushy roasted eggplant, mushrooms, and peppers), caterers are now putting equal effort into making these dishes amazing. Two winter-appropriate, meat-free ideas are a jumbo Portobello stuffed with cornbread, wild mushrooms and truffle essence, or a trio of peppers filled with three different types of risotto. Pasta dishes are back in a big way, either as a second course or a vegetarian entrée. Instead of plain pasta, go for whole wheat, spelt, or spinach.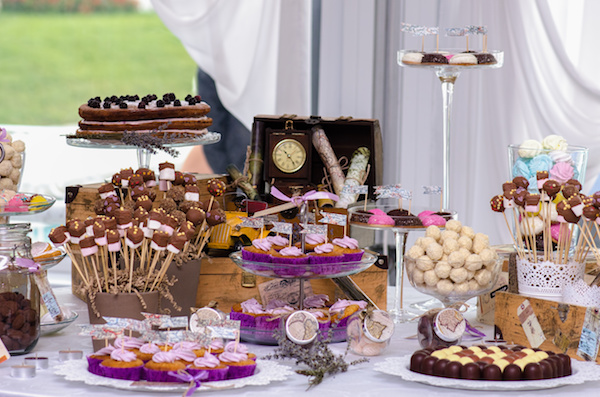 Sweet things
Self-service candy bars (which can serve as both dessert and party favours) have been popular for many years, but there's a new take on this trend that's perfect for winter weddings: an all-white candy spread. Think white yogourt- covered pretzels, white chocolate-covered cranberries, white- coated chocolate mints, nonpareils covered in white sprinkles, and various white jelly bean flavours. Let your guests gather their favourites into clear Chinese take-out boxes bearing a custom label. Another big menu trend that's infiltrated the wedding scene: flights, a.k.a. three or more flavour variations served on one plate. This is a clever idea for a late-night chocolate dessert comprised of mini chocolate cheesecake lollipops and a shot of Baileys Irish Cream in a chocolate cup. It's a sweet and stylish way to celebrate the season—and the perfect ending to a beautiful affair. W
Compiled by R. Legault.