You are The One Whom My Soul Loves…
Enchanting moments at every glance
Tucked away in a beautiful and cozy stable, we met with some of Mother Nature's most gracious creatures. Horses are truly majestic and we were thrilled to work with these two beauties.
When designing this styled shoot, we wanted to create something chic yet rustic. Elegant above all. We wanted to show that styles can be divergent yet harmonious. We hope you will enjoy this styled shoot as much as we did creating it with this dream team.
Lily & Roses Exquisite Events took charge of this project. We coordinated and designed the décor and created the gorgeous flower arrangements and sweet table filled with loads of delectable treats. This is what we do best; tie various elements together to create a look both aesthetic and enchanting.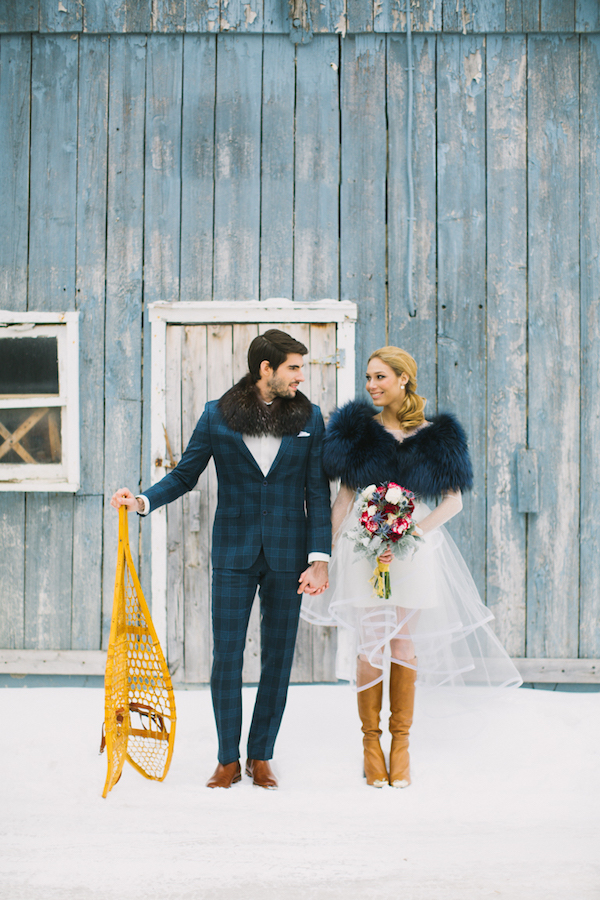 Working with professional models from the Dulcedo Modeling Agency was such an unforgettable experience. Both models were stunning and they made such a beautiful couple. We had goosebumps watching them connect and bring our vision to life.
The gown…oh the gown! We were speechless to say the least! This whimsical creation was custom-made for this project by the one and only Boutique Champagne. We developed the idea and concept with these two amazing ladies who are the heart of this gem of a bridal shop.
As for our beau, we were fortunate to have him wear not one, but two amazing suits as well as a cute wood bow tie from Mercerie G. Brabant.
McGuire Make up Art has such a talented and mobile beauty team, and we were thrilled to have them on-site and part of this project for the hair and makeup.
To complete the look, we called on Gelmoment for the nail art. Their product is smart, durable and eco-friendly — which we love.
Fur is making a comeback and we knew we wanted Elama on this project. Their creations are eye-catching and elegant, showing that fur can still be done in a fashionable way.
It was important for us to have fashion jewellery that was sophisticated yet affordable. We also were looking for an equestrian look, which we were fortunate enough to find at Lala Bijoux.
The cake was a masterpiece created by Bayard. Tall and elegant, this naked cake was overflowing with fresh fruits, with a hint of winter colours for effect.
Creaglam is the stationery guru behind the vintage inspired invitations. Simple and delicate, it completed and tied all the elements of this projects together.
We called upon Bianca Diorio to capture the photos and Lasting Motions for the videos of this project. Bianca is extremely talented and understood right away the feel we were going for. Lasting Motions' editing and speed of work is simply brilliant. Both were a delight to work with as always. W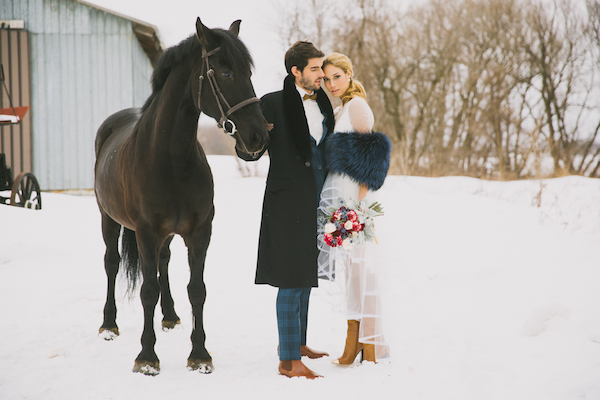 *
This equestrian Siberian love story shoot took place in and around a stable where we were able to showcase a sweet table, cake, floral design, a gown, fur accessories, jewelry, a suit, make up, hair, nail art and stationery. Lily & Roses Exquisite Events designed and coordinated the entire styled shoot. All has been captured by an amazing photographer and videographer. All parties involved are also local companies from the greater Montreal area.
Concept & design, decor, flowers, sweet table, coordination: Lily & Roses Exquisite Events – www.lilyrosesevents.com
Photography: Bianca Diorio Photographe – http://www.biancadiorio.com/
Videography: Lasting Motion – http://lastingmotion.com/
Models: Dulcedo – http://dulcedo.ca/
Hair & makeup: Gabbie McGuire Makeup Art – http://gabbiemcguire.com/en/
Bridal Gown: La boutique Champagne – https://www.facebook.com/laboutiquechampagne/
Suit: Mercerie G. Brabant – http://gbrabant.com/
Fur: Maison Elama – https://www.maisonelama.com/
Jewelry: Lala Bijoux – http://lalabijoux.ca/
Cake: Bayard Gâteau – http://bayardgateaux.com/
Stationery: Creaglam – http://www.creaglam.com/
Nail Art: Gel Moment Dimitra – https://elegantnails.gelmoment.com/
Stable & horses: Ferme l'Auteuilloise – http://www.fermelauteuilloise.com/