Dreaming of a Winter Wedding
Compiled by Ariel Vered and Photos by Tammy Jette
Emilie and Patrick met nine years ago when they were both working part-time at Farm Boy in Cornwall.
The couple had been friends for years and when they reconnected four years ago, it was then that they fell in love.
They were together for about a year and a half when Patrick proposed. They were going into Ottawa for a date night.
"He brought me to the love lock bridge downtown," Emilie remembers, "and that's where he proposed. I was very surprised."
Emilie had always dreamed of a winter wedding. The couple decided to have a long engagement to avoid conflicting with other family weddings and allow them to take the time to plan their ideal winter wedding.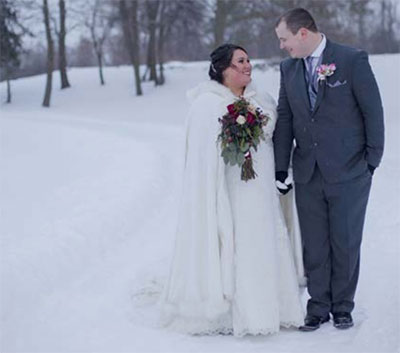 Emilie found her wedding dress at Bridals by Al-Mor in Winchester. The off-the-shoulder V-neck lace dress featured lots of bling and sequins with a long, dramatic train.
Emilie had gone in with the idea of looking for a dress with long sleeves to complement the winter setting, but when she saw this dress and tried it on, "it was perfect," she remembers.
Emilie topped off her wedding dress with the ultimate winter wedding accessory: a fur cape. "Ever since I was a little girl, I would look at pictures in magazines and want to wear a fur cape," says Emilie.
"It was a childhood dream come true." The couple married in a classic church ceremony at St. Peter's Church in Cornwall. St. Peter's is the church where Emilie was baptized and attended with her family growing up, so it was very meaningful for her to get married there.
The wedding reception took place at the Best Western Parkway and Inn Suites in Cornwall. "The reception hall was very rustic and wooden," she says. "It was the perfect theme with the winter wedding."
The concept for the reception decor was bling and flashy, which was reflected in the rich wedding colours of burgundy and gold. Emilie and Patrick hired a decorator from Cornwall who executed their vision for a luxurious and lush celebration.
Decorative touches included mason jars, wooden slabs, gold sequins scattered on the table and a backdrop with white lights that gave a sheer look. Emilie and Patrick were thrilled with their wedding and ceremony.
In keeping with the luxurious tone of the evening, they chose an upscale menu that featured chicken with brie and bacon. Says Emilie, "It was a very fancy plate. We made sure the food would be something that everybody talked about after the wedding."
A real highlight of the day was taking their wedding pictures outdoors on her parents' property.
The couple was thrilled with the pictures their photographer was able to capture, even with a bridal party of seven people on each side, representing Emilie and Patrick's very close friend groups.
The bridesmaids wore burgundy dresses in different styles with fur shawls to complement Emilie's fur cape and the groomsmen wore grey suits with burgundy ties to match.
It snowed a little, just as Emilie had hoped, which set the winter wonderland-like mood for the wedding day. "I look back on the day," says Emilie, "and everything was perfect."