All the Love
Compiled by Pam Dillon and Photos by Amy Pinder
When high school sweethearts Emily and Phillipe got married at Stonefields Estate June 16, 2018, it was a love-filled celebration. "Our families played such a big role in making our wedding happen," Emily explains.
"My aunt co-officiated the ceremony, while both my and Phil's uncles made lawn games for our cocktail hour. The arch we stood in front of during the ceremony, and sat in front of during our reception, was handmade by Phil's uncle. Everywhere we turned, we saw something that reminded us how much we are loved."
A couple for eight years when they wed, Emily and Phil got engaged over the Christmas break in 2016. They were in Quebec City, and without Emily knowing, Phil booked a horse and carriage to take them through the streets.
"It was absolutely amazing!" Emily recalls. At the end of the ride, "he got down on one knee and proposed!"
The theme they chose for their wedding was rustic chic and Stonefields was a perfect fit.
"The rustic feel of the barn was an incredible contrast to the chandeliers that adorned the reception space. We had bright pink florals and lots of greenery throughout the venue."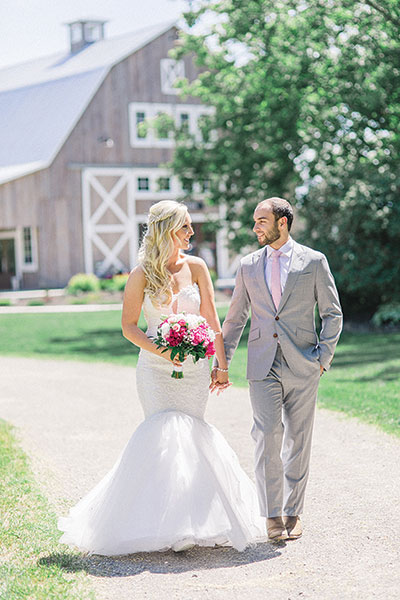 Outside, there was a welcome sign to greet guests as they arrived for the ceremony.
"Two wine barrels topped with flowers marked the start of the aisle, while a wooden arch made by Phil's uncle stood at the end draped with some tulle and more flowers."
Indoors, she says, "The tables were decorated with a full greenery runner that fell to the floor and galvanized milk jugs as vases for the centerpieces."
To display wedding favours, an antique ladder was transformed into shelving, and the favours were also ingenious: "We planted succulents in my mother's garden a year before the wedding and let them grow wild. A week before the wedding we replanted them into individual galvanized pots and displayed them beautifully on our ladder."
The bridal party's attire was also distinctive. Bridesmaids were in long silver sequined gowns while the groomsmen wore cowboy boots with their suits.
As for the bride, her form-fitting mermaid gown was custom-made by Melissa Gentile Couture in Montreal.
"It was everything I ever wanted, and I couldn't have asked for a better designer," she says.
Sarah Walsh Bridal handcrafted Emily's jewellery and a gemologist in Montreal custom-made the couple's rings.
"The center diamond in my engagement ring is my late grandmother's diamond, the same one that she had in the center of her wedding ring," Emily mentions.
"We honoured her, and our other family members who were there with us in spirit, with pictures of them displayed on one of our décor tables."
For Emily, highlights of the day included the first look and her arrival at the festivities.
"I showed up to the ceremony in a baby blue Thunderbird. The second the music started, I stepped out of the car and into everyone's view. It was finally time to walk down the aisle and although
I had always expected to be nervous, in that moment all I could feel was love."
But the favourite moment of the wedding, she says, was the first dance to the song Making Memories of Us by Keith Urban. They danced, she adds, "outside under the stars and the beautiful string lights of the verandah, surrounded by all our family and friends."