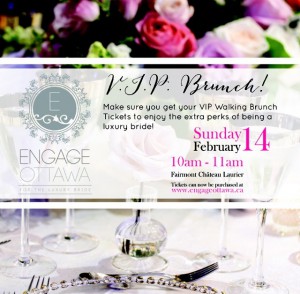 Treat yourself to an extra special Valentine's Day gift. At the historic Fairmont Chateau Laurier February 14, there's a luxury event dedicated to the stylish and sophisticated bride. Called Engage Ottawa, it's a completely new twist on all things wedding.
The intent of this upscale event is to raise the standard of the wedding show experience with trendsetting designs, an unmatched haute couture fashion show and a showcase of products and services that convey style, artistry and excellence. Brides will have the chance to interact and engage with a limited and select group of vendors in an intimate environment, leaving the hustle and bustle of the traditional wedding show behind.
This event is focused 100 per cent on quality not quantity. You can prepare for your upcoming wedding at Engage Ottawa with new vendor categories, interactive stations including a luxury gift bag and posy bar, as well as a VIP brunch hosted by the Chateau. It will includes a panel of industry experts and Q&A.
The show runs from 11 a.m. to 4 p.m. and tickets are $20 in advance and $25 at the door. For details, see engageottawa.ca.