By Geneviève St-Denis
He finally popped the question. Congratulations!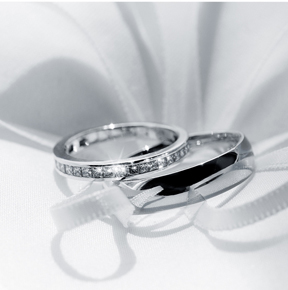 There are probably a million things running through your head. The dress, the flowers, the location, the food, the list goes on and on. With months of planning ahead of you, there is one important thing that you shouldn't forget to do: insure your RING. This may seem like an insignificant step in your wedding planning process but rest assured, it will give you peace of mind.
All jewelry insurance is best purchased as an extension to your tenants, condominium or homeowners policy. You will need to provide an appraisal of the ring in order to schedule your ring. Usually the jeweler can provide this for you at the time of purchase.  The biggest reason to schedule your shinny rock is that if your diamond goes missing, it will be replaced and covered for the full appraised value. An added bonus is that the deductible does not apply to this type of claim.
Here are a few tips to keep your wedding jewelry and other items safe and in good condition:
1.  Store your jewelry in unlikely places to avoid it being noticed in the event of a break in. Having your jewelry box set out on your night stand in plain sight is an obvious place for thieves to look, so get creative. Hide your precious pieces in your closet, or perhaps in a different room altogether.
2.  Those beautiful pearls you plan on wearing around your neck on your special day need a little extra attention. Pearls are porous and can be easily damaged by various skin products or cosmetics. To avoid damaging your pearls, give your moisturizer or other beauty products time to sink into your skin before putting on your strand of pearls.
3. Have your jewelry appraised periodically to accommodate fluctuation in value and to protect your investment. Remember, it is of the utmost importance to call your insurance broker should the value of the ring increase.