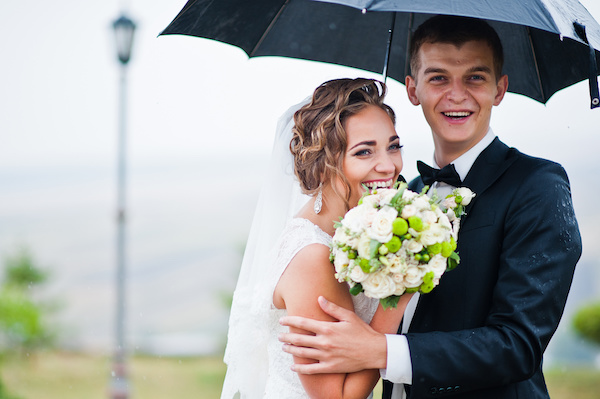 Nothing can vex a newlywed-to-be like the vagaries of the weather. People who book a warm-weather wedding, from May through September, usually hope for — and often expect — a perfect, cloudless sunny day with a big yellow sun and a bright blue sky.
But Mother Nature doesn't always cooperate. That's a fact of life and getting married in the Ottawa region. In recent years we've had some summers that it has rained most Saturdays, with lovely weather on weekdays.
And there's no long-term predicting, with absolute certainty, what the sky will dish out on any given date. However, if the forecast calls for rain — as it does for this weekend — embrace the possibilities and enjoy every last minute of your wonderful, memorable, beautiful rainy wedding day.
A little quick planning will go a long way to making the experience extra special.
1 – Get attractive umbrellas, especially if you're intending to do your wedding photos on the day of the wedding. If the groom's tux or suit is black, get black ones. If it's navy, get navy ones.  Or you can get clear ones. Or bright, colourful ones. You may even be able to get umbrellas to match your wedding colours.
Try to get your umbrellas big enough to fit two people underneath. For instance, the bride and groom under one umbrella and two attendants under each of the others.
Have an extra umbrella or three on hand for older guests who may not have them. It's a lovely, kind gesture to ensure they are comfortable and honoured.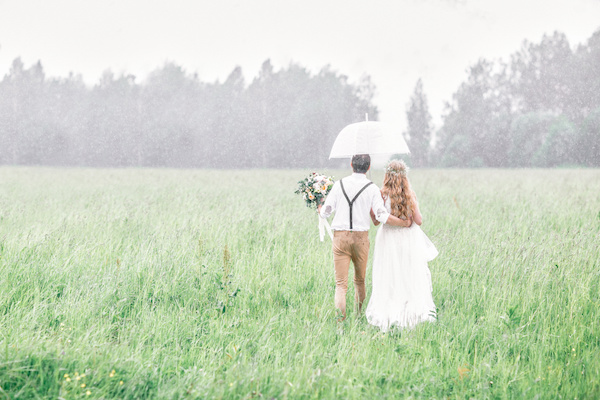 2 – Buy waterproof mascara. And don't fuss about your hair. Enjoy the possibilities. Weddings aren't about perfection. They're about joy and celebrations.
3 – Wear some fun, colourful rain boots for outdoor photos. Get rain boot/wedding dress pics.
4 – Dance in the rain. Embrace in the rain. Show your love and joy and happiness in the rain. Let your smiles light up the day and the memories you will treasure when you see the photographs twenty years from now.