Sweethearts Forever
Compiled by Ariel Vered and Photos by Jemman Photography
High school sweethearts Erin and Dan met on the first day of high school in Kemptville and became best friends.
They started a romantic relationship in the middle of Grade 12 and stayed together when Erin spent her first year of university at Brock University.
She returned to Ottawa to attend her second year at Carleton University with Dan and the couple moved in together at 19.
"It was a tiny apartment," said Erin. "Everyone thought we were crazy."
Years later, in April 2016, the couple, who also work together at an Ottawa-based software startup, decided they wanted to get married.
They picked out a wedding ring together and went home to Kemptville to share the happy news.
While they initially entertained the idea of getting married in 2018, their family and friends convinced them to not wait that long, so they planned for the spring of 2017.
They chose Maplehurst Manor as their wedding venue after Erin and her mother spent the day checking it out. "The flowers were blooming," remembers Erin.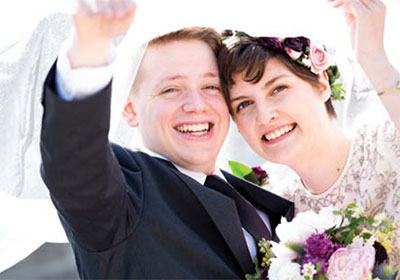 "They really sold us on it." Erin walked down the aisle in a mini dress by Needle & Thread, a brand she'd had her eye on, which she bought off the rack at Nordstrom.
"I wanted something non-traditional that I could move in," she said. The knee-length blush pink dress featured little flared sleeves and silver beading all over: "I fell in love with this dress," she said.
Her bridesmaids also wore Needle & Thread dresses with beaded bodices and flowy skirts.
Choosing the blush pink dress directed the vision of the wedding. Erin and Dan credit Erin's mother for being instrumental in planning the theme of the wedding.
"My mother made three different concept boards, depending on the dress I got," said Erin.
Instead of having wedding colours, the couple used three key words as their wedding vision statement: simple, happy and fun.
"If something came across that wasn't one of those things," says Erin, "we didn't bother thinking about it anymore."
Their wedding food consisted of simple, fun food like a taco bar and pizza for the wedding meal; their bar had wine, beer and whiskey offerings; and, for some great photo opportunities, a giant beach volleyball that said LOVE.
"It was fun and simple and happy all in one," she says. Their first dance was a sentimental choice: "What a Wonderful World," which was the same song her parents danced to at their wedding.
"Every time it came on, they would dance to it at home," says Erin. For the couple, the most special moments of the day were saying their vows in front of their family and friends and seeing each other for the first time that day.
"The whole day was very sweet and very emotional," remembers Erin. "Our first looks were also very emotional. Finally seeing Dan and hugging him was the best part of the day.