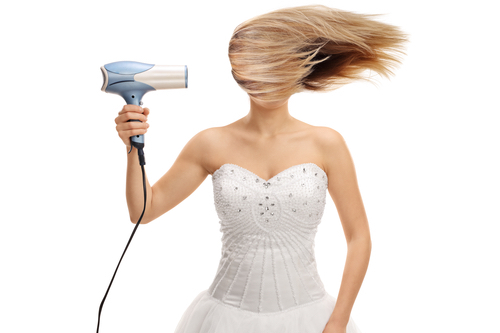 It may be hard to believe, but your wedding day will be here before you know it. Soon, you and your groom will be pronounced husband and wife in front of your closest family and friends — and probably plenty of other people. You've selected your dress, finalized the flower arrangements and agreed on a cake, and now it's time to choose a hairstyle that will not only look great, but also stand up to a long day of nuptial festivities. If you want to ensure terrific tresses on your big day, keep these tips in mind:
Practice Makes Perfect
No matter if you plan on doing your own 'do or have a stylist booked for the job, be sure you get in plenty of hair practice ahead of the big day. Bridal experts suggest having a stylist try different hairstyles to see which one best completes your look. If you plan on using an accessory, be sure to practice placing it in your hair or bring it to your hair trial appointment.
Practicing at home several times will help ensure that on the big day — when your nerves are on overdrive and hands are a bit shaky — your hair will still come out looking great. Going into a salon ahead of time will allow your stylist to get the same needed practice, and possibly tweak the ideas that you have in mind to suit the shape of your face and your hair length.
One added tip: Ask your maid of honor to keep an eye on your hairdo and pull you aside as needed for a spritz of hairspray or to tuck a random curl away from the middle of your forehead.
Be Open to Ideas
Even if you are positive you want long, flowy curls on your wedding day, be open to other hairstyles. Ask your trusted friends or stylist for their thoughts. From messy buns to beautiful flowers, you might find inspiration from something they suggest. If you end up going for floral accents, order them from a reputable company like FTD that offers on-time delivery and freshly cut flowers — the last thing you want is a wilted rose tucked in your curls.
Keep It Loose
The Knot suggests choosing a style that doesn't require your hair to be tightly pulled back. A classic bun may look great with your dress, but the last thing you want is a headache caused by tight tresses. The same is true for huge updos and other hairstyles that require a lot of teasing, pulling, pinning and spraying. Try to find a style you love that is more loose and natural; it will hold up better throughout the day and you won't end up with a sore scalp.
Plan for the Weather
While you can't always predict Ottawa weather 100 per cent of the time, you can take into consideration the time of year you're getting married, wedding bloggers say. If your big day is over the summer, the day may be warm and humid, and if a winter wedding is on the books, you may have to plan for dryer, flyaway hair. Take the season into account so you can plan your wedding 'do accordingly.