Warm Up to These Glamorous Looks
By Lindsay Ruck
What's sparkly, stylish and sexy yet sophisticated? Our favourite bridal trends for fall 2017! We're completely obsessing over this year's designs and while we couldn't highlight them all in just one article, we've selected some of our favourites to share with you. Read on to find out which looks turned heads on this season's runways.
Sleeves, please
Talk about a trend that keeps on giving. Thanks to Grace Kelly and the Duchess of Cambridge, Kate Middleton, sleeves are still at the forefront of bridal fashion, which is perfect for the fall or winter bride wanting a little bit of added warmth. While the trend remains, the sleeve styles received an extra shot of fabulous with many designers opting for statement sleeves that stole the show. We loved the soft sleeves featuring flutter and flounce, and the oh-so-vintage bishop sleeve (which Hayley Paige has labeled a "dreamcatcher" sleeve). Among other noteworthy designers, Isabella Armstrong and Alyne by Rita Vinieris both featured beautiful sleeved styles down the bridal runways.
For added whimsy on your big day, brides also have the option of gowns with beaded sleeves and sparkle. The illusion sleeve looks especially magical adorned with pops of shine and was found in several bridal lines this season, including designer extraordinaire, Monique Lhuillier, who describes her line as "a fairy-tale with the whimsical sense of a fleeting moment, caught in time."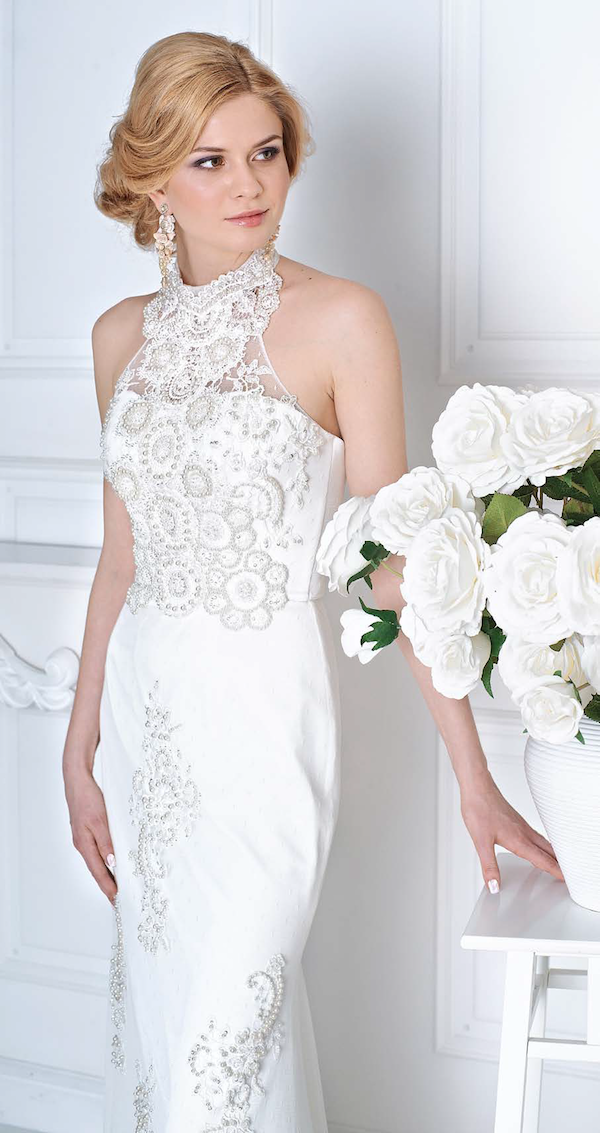 Off-the-shoulder
Our final sleeve-obsession was found in several off-the-shoulder and cold shoulder gowns that graced the 2017 runways. For brides who want the best of both worlds, off-the-shoulder gowns beautifully marry sexy, yet sophisticated. Reem Acra, Marchesa and Theia all featured off-the-shoulder styles which are sure to please the fashion-forward bride. This style works with several silhouettes and was found, among other styles, on ball gowns, A-line designs and bohemian sheath gowns. So, no matter what frame works best for your figure, an off-the-shoulder top is sure to please.
Feathers
Next up on our trend watch is for brides who really want to make a statement: feathered accents. We've highlighted this style before and previous feathered styles from the past, left today's bride wanting more. Mira Zwillinger and Pronovias showcased delicate feathered sleeves, while Monique Lhuillier opted for ultra-dramatic with a feathered cape.
The key to a feathered look is not to overdo it. Feathered accents add playfulness and high fashion to bridal wear without coming across as a costume, which could occur with over-the-top plumage.
High necklines
We talk a lot about the plunging neckline and have featured several sexy deep-Vs in the past. And while this look is still ranking high on bridal trends, we're also giving a salute to the classic high neckline. BHLDN, Carolina Herrera and Allure Bridals all featured high necklines this season. This elegant style takes us back to the romantic Victorian era and we love how many designers avoided seeming overly matronly by pairing a high neck with a plunging back or fitted silhouette. Delicate lace paired with a high neck may be one our favourite combinations and we're crossing our fingers that the rise of the neckline will be around for several seasons to come.
Heavy metal
Accessories are sharing the shimmer spotlight this season and we're loving this next ultra-glam trend for fall and winter brides. For those brides who want to feel a touch rock 'n' roll on their special day, metallics were peppered throughout fall 2017 bridal gown lines. This updated look on beading and shimmer takes bridal wear away from the tacky over-the-top bling of the past and brings it into an edgy play on sparkle and shine. This edgier trend was found in several desirable lines, including Reem Acra, YolanCris and Lazaro. Brides are sure to glow as they walk down the aisle in romantic and modern gowns featuring brocades, crystals and metallic hues.
Depending on how much glitz is in your gown, you may want to go on the lighter side when it comes to the accessories. Your dress will steal the show, so don't try to compete with over- the-top bangles, necklaces and standout earrings. Those pieces are best when paired with simpler styles. Finding that perfect balance is key when selecting a gown with metallic features.
While we love a good trend, we also know that each bride is unique, and in the end, it's all about what suits your style. You should feel comfortable in your gown from day to night and that starts with choosing a dress you absolutely love. With so many beautiful styles to choose from this season, you're guaranteed to find the look that is oh-so-you. Happy shopping! W