By Rev. Alan Viau
"Hotel guests were evacuated from the Delta Ottawa City Centre on Lyon Street Saturday afternoon after a HAZMAT team was called to check out a suspicious white powder." read the story in the Ottawa Sun.  But what the story did not report was the effect on Kurtis and Marissa's wedding, which was underway.
Kurtis and Marissa wanted to have their wedding on the terrace of the hotel. However, pouring rain ensured that this wasn't to be (nor for my two other couples that day). They took it all in stride. Marissa was enjoying her time with her bridesmaids before the wedding.
About ten minutes before the time, Marissa started getting nervous. As we lined up to go, one of the bridesmaids handed me a bag full of wine corks. I was instructed to put it near where they can get hold of it. I thought it had something to do with Kurtis being a wine merchant.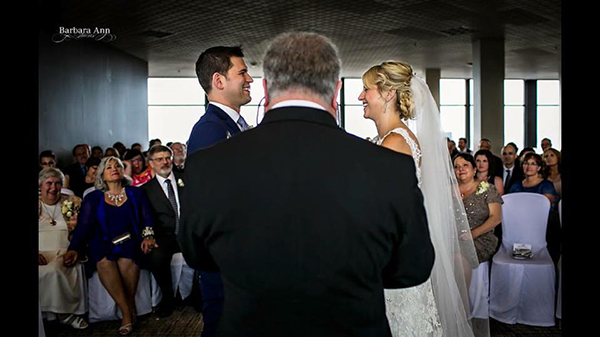 Everything was going well. The signing, the vows, the wine box ritual…and that's when the fire alarm came on! A look of slight panic spread across the audience. All I could think of was to get Marissa in her beautiful long wedding gown down 25 flights of stairs.
A message followed (bilingual of course), that there was no danger and that only guests on the fourth floor were to remain in their rooms. A burst of nervous relief laughter erupted from everyone.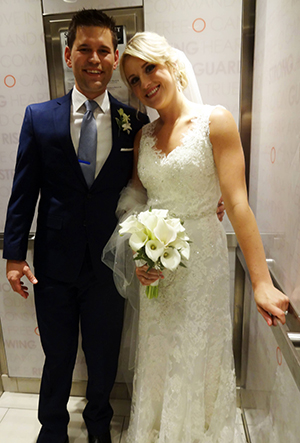 All that remained was the blessing and declaration. At the end of the kiss, her bridesmaids tossed the wine corks at Marissa, with more laughter.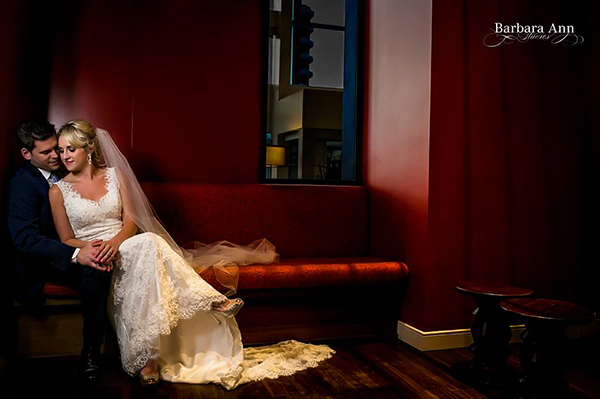 I joined the elevator ride to the main floor with the newlywed couple, relieved that all had ended well. It looks like they had a bit of fun with the firemen posing for pictures and I hear it was a grand reception party.