In most weddings, I offer a word about those who could not physically be with us to celebrate the union of a bride and groom. This wedding offered a very personal memorial to a dearly departed father.
In every wedding, I utter words that people who could not be there physically today are remembered for the love on this happy occasion. It allows for a bride, groom and guests to spiritually open their hearts to those loved ones who are departed and who meant so much to them. Sometimes, I will name the person(s) specifically. There may by a lighting of a candle or picture of the person on the signing table to signify their presence.
Some brides and grooms will wear a little something to commemorate the person. I've had brides wear a brooch or cameo from a dear family member. These are all very subtle yet meaningful gestures.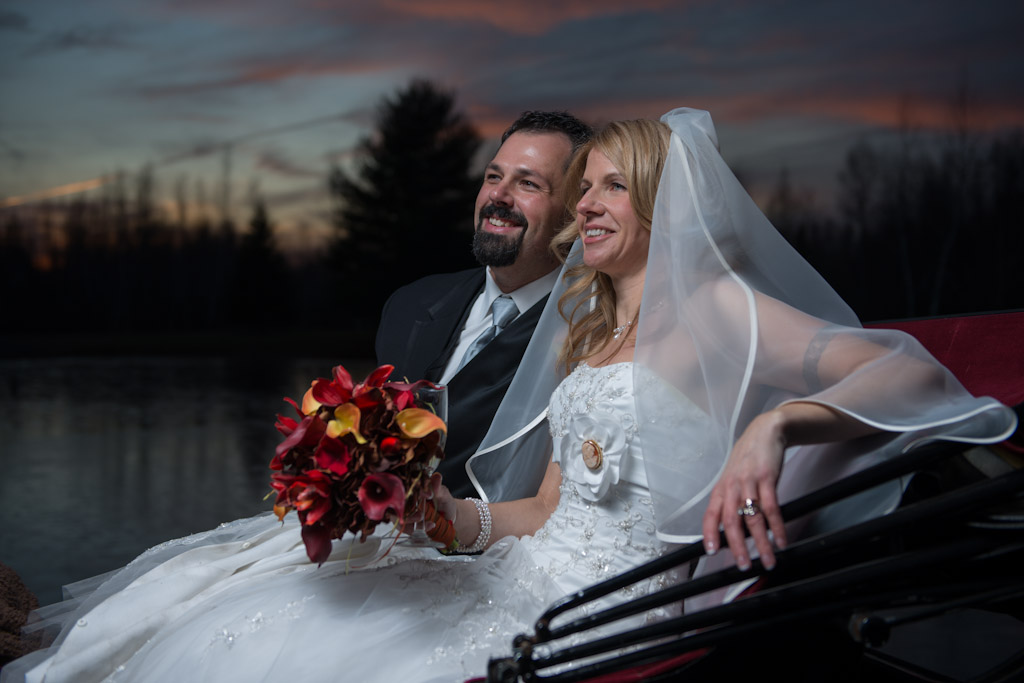 Bride wearing a cameo on her dress as memorial. Photo by Mark Cooper Photography
A more overt praising of a loved one can also be appropriate. During the start of a late evening wedding, the bride offered the 140 guests a shot of over proof rhum in memory of her father. She addressed the audience with this toast to her dad:
"For those of you who don't know, I lost my dad 3 years ago today. Now I'm sure you're asking yourselves why we would plan our wedding on this date. My reasons are simple, as much as I miss my dad (and that's every day), I thought it would be a nice way to remember him and instead of thinking every year on this day, that this is the day my dad passed, it will be "this is the day that I married my best friend with my dad watching over us,
"With that said, let me tell you all a little story, some of you already know it so bear with me",
'About three years ago, Gilles and I were planning our very 1st vacation together, going to Jamaica! When my dad told me he was sick again, we told him we would cancel our trip, but in true fashion my dad said no way and made us promise to go and have a great time."
"But we also made a couple of other promises to each other that day. My promises to him were, to go and have fun and the second was to bring him back a bottle of over proof rum. And his promise to me was that he would be still here when we got back from our trip. When we got home, my dad, who was holding until we got home said his goodbyes."
"However….he never did get to drink his bottle of rum so with the help of my family and in honor of my dad we drank it for him."
"I will warn you… This stuff isn't pretty, but we all did it (yes my nanny too) and we're about to do it again!"
"So today in honor of my dad, with everyone here today… our newly extended families and all our friends we would like if you could raise your shots and toast my dad and let this shot represent all of our loved ones that aren't physically with us anymore. Know like we do, that they watch over us and love us very much."
"To my Dad, Bruce."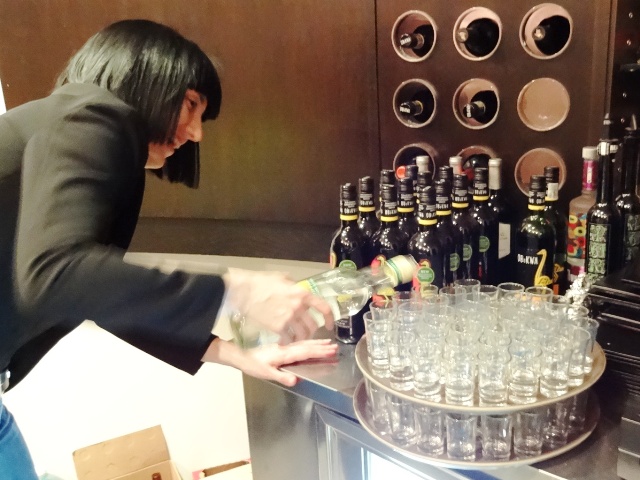 Rhum Shots being prepared. Photo by Alan Viau
It was really amusing to see 140 people take their shot and immediate gasp! It took a little urging to get the crowd settled again to keep going with the ceremony. We all got to keep the shot glass to remember this event.
Shot glass for the overproof rhum. Photo by Alan Viau
But the point was well taken and set the mood for a good party after the ceremony. I'm sure they had a wonderful cocktail reception to celebrate this anticipated day.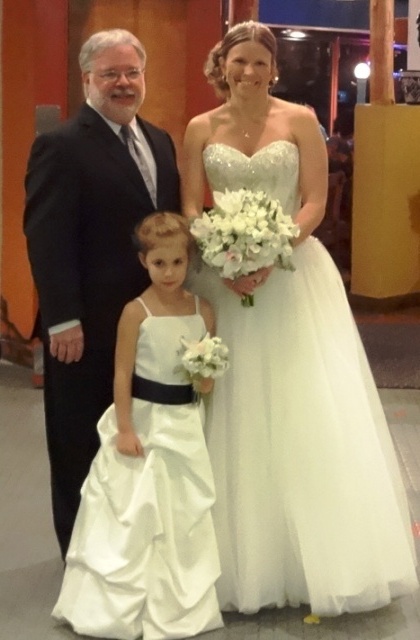 Congrats Cindy! Photo by Alan Viau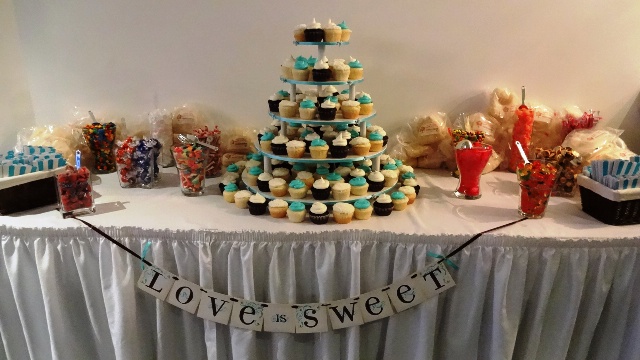 Sweet table. Photo by Alan Viau