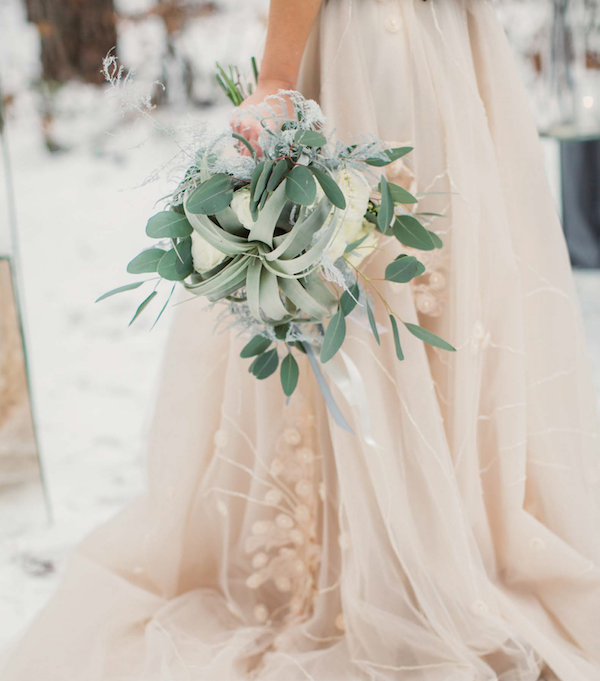 BY ARIEL VERED
The floral arrangement is like the 'period' at the end of a beautiful poem," said Janette Smith, owner of Floral by Net. In the age of Pinterest, most couples have decided on some form of their wedding floral vision before their first meeting with the florist, which is the first step in working within a couple's budget to realize their vision. But it's easy for a couple to overwhelm themselves when it comes to choosing flowers. That's why Karen LeRoy, owner of Alta Vista Flowers, suggests focusing on a theme. "I tell brides to try and not worry so much about the colour scheme of the flowers," she said. "Florists can help bring together that colour story."
Focus on style and colour
Taking the wedding colours and bridesmaid dress colours as a guide, the florist can help reduce flower choices. Couples can think about colours and styles they like, but leave the specific details of the flowers up to the florist, says Mandy Drew, wedding coordinator at Trillium Floral Designs. "A lot of couples think they need to do their research prior to meeting with a florist, but it's easier to let us do the educating, as floral information online isn't specific to their local climate."
Greenery: the colour of the year
Pantone named greenery as the 2017 colour of the year, a refreshing and revitalizing green that hearkens to the great outdoors. With connotations of rebirth and new beginnings, greenery is an apt flower metaphor for a wedding. And for the non-traditional couple, greenery can alleviate any beliefs that flowers are a frivolous cost. If using just greenery seems too stark, incorporate white flowers to bring a nice burst of freshness. "I think overall there is a crave and connection to the natural," said LeRoy. "Whether you have the ability to be outside or bringing that natural in if you can't."
Romantic and vibrant bouquets
Continuing the trend from last year, couples are going for a romantic, lusher feel to bouquets and décor. Big garden roses, soft tones, and a mixture of greenery is an ongoing trend. Bouquets are moving away from traditional, tightly packed bouquets; what's popular are loosely collected, overflowing arrangements that look as if they are freshly picked from the garden. "I see brides going for more of a free- flowing bouquet," said Smith. LeRoy agrees that couples are embracing a less structured bouquet: "It almost looks like walking into the garden, collecting flowers that have just come up from the garden, bringing them together and tying them softly with a ribbon. It's really embracing the more natural look." While classic wedding flowers such as big garden roses and soft pastel tones are still widely used, greenery and uncommon flowers are also being incorporated for an outdoor nature vibe. And for a bouquet that really pops, dark pops of burgundy are in style as a nice accent to blush bouquets. Sophisticated and whimsical, with whimsical pops of focal flowers. "We are seeing highly textured tropical flowers and smaller-headed types of flowers," said LeRoy.
Making the venue your own
"In spaces that are very plain or neutral in colours, flowers help to brighten up the space and add personality," says Drew. "In colder months, it certainly helps to bring the outdoors in." Flowers hanging straight from the ceiling, above head tables and draped over chandeliers can transform a venue into a cozy, warm and inviting space. "It takes a basic chandelier and brings drama to it," said LeRoy. "Hanging florals and candles can add to the special day and make it extraordinary." The wedding arch has become a statement piece of wedding ceremony décor. If the venue has an existing arch, you can add a floral piece to the archway or, for the big budget couple, along the perimeter. "I see a shift to more elegant décor using classic, white flowers, ornate linens and sequin patterns," says Drew, "as opposed to the last few years, where mason jars and burlap took over the décor in a more laid-back fashion."
There is also a growing trend of couples bringing a more personalized touch to venues, incorporating personal effects into their wedding venue and wedding style and finding ways to incorporate florals into places like the seating assignment charts or a gift table. "That, to me, resonates more interestingly than having a really blingy décor that could be anyone," said LeRoy.
Some other trends LeRoy sees is the sophisticated look with whimsical pops of focal flowers such as a highly textured tropical flower in an arrangement of smaller headed flowers, as well as the mixing of metallics, pastels and cream tones, and woodsy textures such as cut birch and darker woods.
Accessorizing with flowers
Once the couple has decided on what flowers will be featured, they can think about incorporating flowers into their personal style for the day. For the boho bride, a flower crown can be the perfect finishing touch, or for a subtler look, florals woven into hairstyles can be a lovely and delicate touch. W