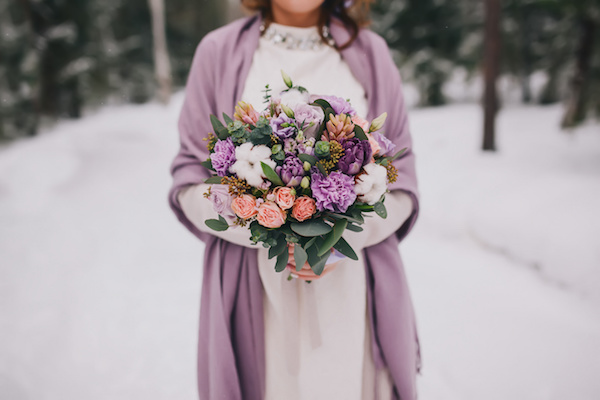 More Than Holly and Ivy
Winter brides and grooms may feel restricted when choosing flowers for their wedding, as flower varieties are limited in the winter months. But there are many festive flowers to choose from for your bouquets, arrangements and decor. Your florist can help you choose seasonal and out-of-season flowers to match your budget.
Always a wedding classic, roses are available year-round in a rainbow of colours – one that is sure to match your winter wedding colours. Lilies come in a wide range of varieties and colours, such as stargazer, casablanca and the elegant calla.
Stephanotis has beautiful delicate white blooms and makes a wonderful pairing with green foliage and other white bridal bouquet flowers. Chrysanthemums are available in winter, too, and can fill out arrangements and bouquets in many assortments of hues. White potted mums make a great church and reception flower and won't bust your bridal budget. White is a wonderful winter colour, but make sure that whites and greens in your bouquets and arrangements match those of your gown. Comparing fabric swatches from your gown and the bridal party's gowns against white flowers is a good idea.
Gerbera daisies are a trendy favourite and are widely available in a variety of hues. Carnations are a very affordable winter flower and are easily found in red, white, cream and pink. Although considered a "filler" flower by many, they are quite pretty when tightly arranged in a nosegay-style bridal bouquet.
Wonderfully scented freesias make a pretty accent to any winter arrangement. Gardenias are usually on hand in the winter months and have a wonderful scent and a gorgeous white or soft pink flower.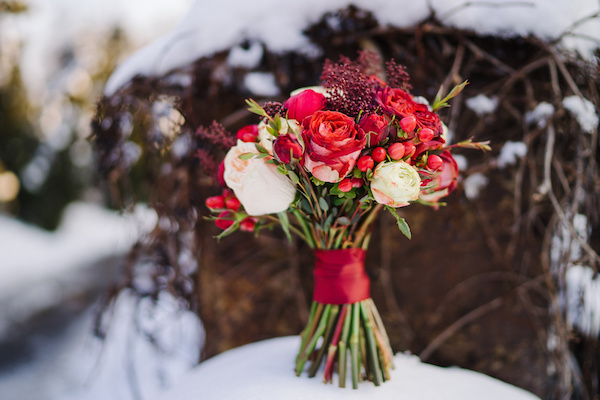 Available in the winter, in a wide range of colours, the regal amaryllis makes a fantastic and striking flower. You can start amaryllis bulbs at home in advance of the big day without much effort and pick them just before you leave for the wedding or reception site.
Less traditional blooms such as peonies, gardenias and hydrangeas are available in cold weather as well. Consider incorporating some of these bright and flamboyant blooms into your bouquet or arrangements. Poinsettias come in traditional red and white as well as pink and cream, and make a festive seasonal addition to any winter wedding theme. They also make a great wedding favour for guests.
Accent your winter wedding flowers with wintry touches like ivy, in green or variegated varieties, or eucalyptus branches. Think about adding baby's breath to any arrangement for a snowy effect. Giant pine cones, holly leaves and berries, pomegranates and evergreen boughs are inexpensive and festive floral accents that can add a touch of wintry distinctiveness to your winter wedding flower choices. W
Source: yourwedding101.com.
 This story first appeared in the 2014 winter issue of Ottawa Wedding Magazine.