The winter wedding shows are upon us. Tramping through all the shows and exhibitors is exhausting even for seasoned people like me. However, by focusing on the few important items, you'll move forward in your wedding planning.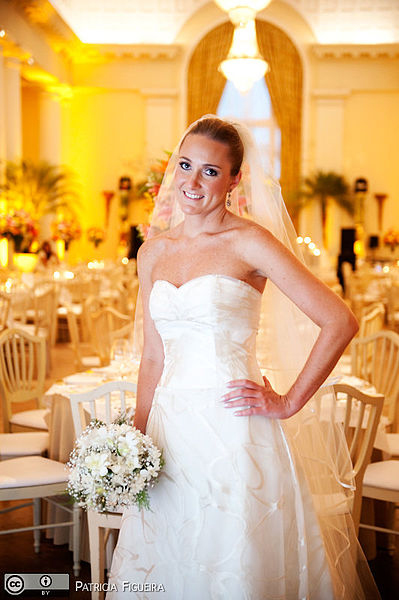 It is overwhelming. Wedding shows have booth after booth of vendors that can seem endless. With 170 exhibitors at the Ottawa Wedding Palace Bridal Show, how can you make sense of it all? Here are four survival tips to make it through.
Prepare for the day.
You can be there for a long while. Wear comfortable clothing and footwear. Bring some water and a snack to keep hydrated and energetic. Carry with you a pad of paper and pen to take notes. Use a
digital camera
to capture something that really strikes you (be nice and ask first). The best time to talk to vendors is during the fashion show. Everyone is congregated at the show leaving the vendors idle. They'd love to talk with you.
Plan your visits.
I advise brides that the most important decisions to make for your wedding are 1)
the venue and reception
2) photographer 3) planner and 4) entertainment. Wedding shows let you scan each one as to whether they suit your style and budget. The venue and reception book up early and set the tone for your party. The photographer and planner are people you will personally interact with during your whole day. You need to be comfortable with them and their work. Finally, the entertainment can make or break your reception. Target these four categories of vendors for booth visits.
Look for the WOW. Wedding magazines are filled with weddings that have it all. Sometimes they are over the top and most are not realistic for people. Search out the one WOW item with which to highlight your wedding. Be on the lookout for something that really gives you a WOW feeling. It could be flowers, specialty food, a cake or decor. Smaller wedding shows have unique vendors where can find WOW items. Whatever it is, ask to take a photo for you to refer back to.
Forget the dress.
There are many dress exhibitors at wedding shows. It is easy to get ambitious and want to try on
wedding dresses
. I say forget-about-it. It is good for you to note who they are, how they treat you and plan a visit with them. You will be able to try on dresses in a more comfortable setting and see how they really make you look beautiful. As mentioned earlier, skip the wedding dress fashion show and use that time to get the full attention of the vendors.
So load up with sneakers, water, power bars and cameras and have a great time!