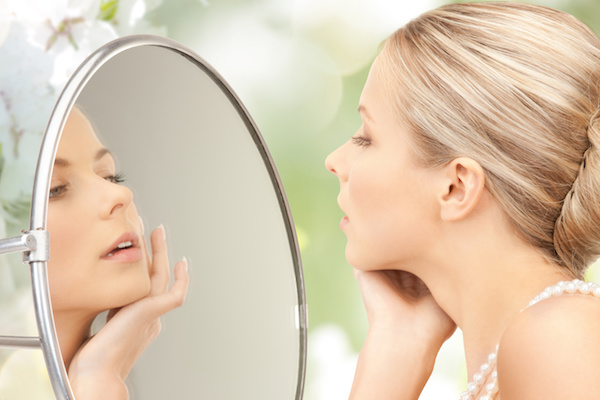 It's called the bride's day for a reason. All eyes are on you! Your gown will be outstanding; your hair will be stunning; and the beautiful features of your face will be fiercely flawless.
Whether you plan to marry on a beach at noon or at night under the stars, by keeping your makeup simple you will look and feel great. Your makeup should enhance your beauty, not hide it. Try these tips to achieve that perfect bridal glow:
If scheduling a facial, make sure it's at least two weeks prior to your wedding.
If your skin is prone to breakouts, see your dermatologist three or four months before the big day.
Staying hydrated is important. Drink lots of water to flush out impurities from the skin.
Eyebrows should be shaped five to seven days before the wedding. Be sure not to pluck on the day to avoid unattractive red bumps that are difficult to cover.
Blend your makeup well and let it set.
Choose a lipstick that lasts. Apply just prior to walking down the aisle.
Go easy on the lipliner. Check the teeth for traces of rouge.
Line and fill mouth with a neutral pencil to make lipstick last longer.
To lengthen wearing time of your lipstick, apply a light layer of powder over your lipstick then apply another layer of lipstick.
If you are doing your own makeup, meet with a beauty consultant and purchase your products at least three months in advance. Then practise until you've got your desired look.
Waterproof mascara is a must-have for those tears of joy.
A very light application of facial powder will set your makeup.
Keep your powder, mascara, and lipstick in your purse to freshen up at a moment's notice.
If you discover a pesky pimple on the day, do not pop it! Just apply a drop of Visine to remove the red, cover with concealer, and apply foundation.
Wear a buttoned-up shirt when applying your makeup to avoid any smudging fiascos. When slipping into your gown, put a towel over your face so you don't get makeup on the dress.
Avoid glittery or dewy looks — these are not very receptive for photographs and you may come out looking greasy. Shine is the number one enemy for photos.
If your wedding is outside, be sure to apply sunscreen first.
Water-based foundation looks most natural in photos.
For eye contouring, apply a dark but neutral shade in the crease of the eye. You can line the upper and lower lids (optional) with brown or grey shadow, smudging the outer corners.
To make your eyes appear wider or brighter, use a white pencil to line the inside of the lower lids.
Don't get too much sun before your wedding. Sunburns, peeling skin and tan lines can sabotage your special day.
Make certain your wedding photographer is not using grainy film, as it will ruin that flawless face. High quality film will do your look justice.
For the best results in photos, makeup must be completely matte and in neutral tones. Most brides usually prefer a little colour. Pastels look soft and pretty, but avoid glitter, shimmer and frosted eyeshadows.
Avoid white or black eyeshadow.
Olive complexions should stay away from grey shades and pale complexions should avoid vibrant colours.
To relieve stress, hire a makeup artist. If you enjoy doing your own makeup but need a bit of direction, visit a makeup consultant. W
Compiled by R Legault.