There are many couples who shed the traditional wedding format when they get married for the second time. Having gone through a traditional wedding they choose to do things their own way. It was fun to officiate Jeff and Leanne's wedding at the Fairmont Chateau Laurier.
The traditional wedding affair has an afternoon ceremony followed by pictures and a reception. The reception will have cocktails, dinner, speeches and finally the first dance to kickstart the fun.
This works well for most weddings. If this is the first time you are getting married, then you will probably follow this format. However, when a bride and groom go through a second marriage, I found they will often dispense with the typical steps in favor of something more personal.
Jeff and Leanne's cocktail reception was well underway when I got the Drawing Room. At 7pm, guests were mingling and being greeted by the bride and groom.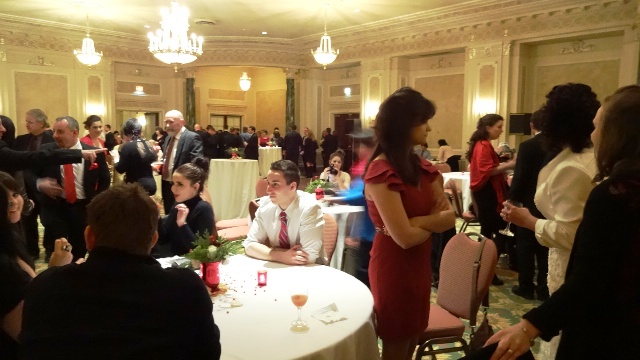 Drawing Room at the Fairmont Chateau Laurier. Photo by Alan Viau
At the appointed time, Jeff and Leanne positioned themselves on the dance floor. I announced to everyone "Welcome to Jeff and Leanne's Wedding!" and they walked across the room onto the platform where I was standing.
The ceremony was very sweet with both of the saying their own vows.  All of the kids signed the register. I like it when this happens because it is a recognition of a newly formed family.
Finally, I declared them married and they sealed their vows with a kiss. With everyone cheering, they left the platform and walked straight to the dance floor. They immediately had their first dance to kick off the party.
Isn't love grand. Congratulations Jeff and Leanne!