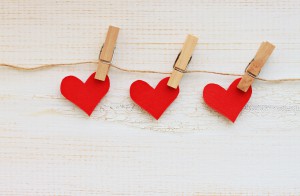 by Lindsay Ruck
What's one of the first things you did when you got engaged? Called friends and family? Started a wedding registry? Had the ring appraised? Or went straight to Pinterest? DIY projects are sweeping the wedding scene as more couples are finding affordable and fun ways to add personal and beautiful accents to their day. So for all of you Do-It-Yourselfers – this one's for you!
Top five tips for DIY wedding accents
Keep these tips in mind before tackling your next project.
Start early
The earlier you start; the better. No bride wants to be running around with curlers in her hair and a hot glue gun in hand on the eve of her wedding. Make sure you give yourself plenty of time to complete all of your desired projects. While some may seem easy to tackle, it could be tricky to gauge just how long those rope-wrapped vases are going to take. And you always want to leave room for error.
Be flexible
One of the best parts about DIY is that you can add personal touches and make it your own. If you can't nd one item, swap it out for something else. Nothing is set in stone, so get creative and don't stress when something is not going exactly as planned.
Be realistic
Don't take on more than you can chew, and remember: there's only one Martha Stewart and even she has a staff full of professionals making sure everything looks just right. When planning a wedding, your time may be stretched thin, so ensure you're not over-extending yourself by taking on too much.
Always buy extra
Mistakes happen. It's always a good idea to overbuy materials so you're prepared for anything. If you do have extras, don't look at it as a waste. A quick search on Pinterest will give you tons of ideas for those extra ribbons or Popsicle sticks.
Ask for help when you need it
While it's called "do-it-yourself," that doesn't mean you can't round up some friends and family for an extra few pairs of hands. But be selective in who you ask for assistance. Not everyone has the craft gene and some may just not care enough to do it right, so make sure you ask those that have a steady hand and a willing heart. You can sweeten the deal by turning craft corner into a party. The key is to keep them fed and hydrated. In return for their time, offer some apps and vino. But no food and drink around the workspace please! Nobody wants to redo 100 program fans that have now been doused in sloppy Sally's red wine. (No offence, Sally.)