By: Diane Farquhar,  I Just Said Yes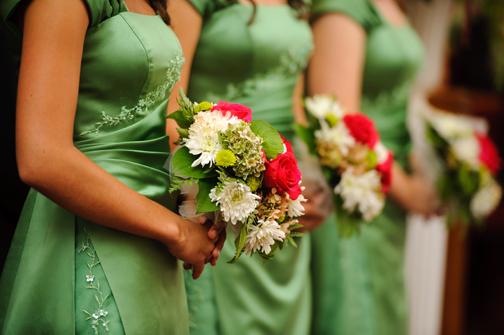 With every wedding comes a few tricky situations.  Here's one: what if you are having second thoughts about one of your bridesmaids?  At one time you felt she was supposed to be part of your big day, which is why you asked her in the first place.  Before making your final decision you need to ask yourself a few questions.
Whenever there is a group of girls together there can be some jealousy, emotional ups and downs, and a little cattiness.  The bridesmaid in question must have done something to upset you.  If you are basing your information on something you heard second-hand, make sure you investigate the situation first as there are always two sides to every story.  If she has been angering or annoying you personally and not showing an interest in your wedding then perhaps it's time to have a little chat.  Find out the reasons behind the confrontation.  It could be jealousy, a financial situation, or perhaps she feels left out from the other girls.
How important is this person to you?  If it is a sister, cousin or best friend you should talk to them and see if you can fix the problem and move on.  Sometimes a little communication can go a long way!  If you come to the conclusion that the friendship is not the same and you decide to say goodbye, it's most likely that friendship will be gone forever.  Perhaps your bridesmaid does not want to be part of the bridal party either, and could it be her way out  as well.
Communication is the key.  If you are feeling a little stressed or are having anxiety because of a bridesmaid situation, then nip it in the bud right away.  Always try your best to make things work first.  Never worry about the amount of bridesmaids equaling the ushers as this is not important anymore.  Many bridal parties have uneven numbers so if you make that choice of letting one bridesmaid go, don't fret.
I think if there is anything a newly engaged woman should learn from this post, it is to select your bridesmaids carefully.  Choose the ones that are the closest to you and have surrounded you with honesty, friendship and love.  How can you go wrong with any of these?