Golf Clubs are a favorite location for having a wedding reception because they have banquet facilities. A fewer number offer dedicated outdoor ceremony spaces. Here's what to look for in a golf club.
I've performed many weddings at golf clubs. They have the capacity to handle large numbers of people for the reception. They are also attractive because of the well groomed grounds and easy parking. You can switch from an outdoor to an indoor ceremony fairly easily depending on the weather.
When it comes to performing a wedding ceremony, some are better equipped than others. When you are considering a golf club for your wedding ceremony and reception, take a look at these potential challenges:
1- Dedicated space for the ceremony– This is great to have. I've been to some where we are stuck in a patch of garden next to the cart path or you are placed in the middle of a field somewhere. Check where it is and how easy it is for your guests to get to the ceremony space. It will be uncomfortable for the women in high heels and seniors to walk too far.
2- Check for power – After seeing where the space is, check where you can get power. Your DJ will need it. Since most outdoor golf club weddings are for 100+ people, I need it for a public address system. I had one wedding this summer where the DJ didn't realize he needed a power pack. It was sweltering hot while we waited 30 minutes to get this resolved.
3- Playing Through – What happens to the golf players during your wedding? Do they stop play or traffic? Is the location far enough away from the play that it won't interfere? Look at the picture below where the couple is saying their vows with players in the background. It adds an additional challenge for your photographer.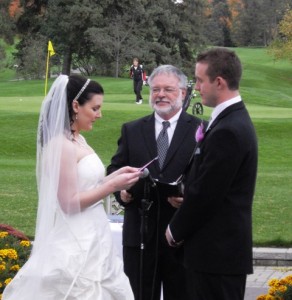 Having said that, here are my most frequented golf courses in Ottawa that have dedicated ceremony spaces.
Canadian Golf and Country Club