By Susan Johnson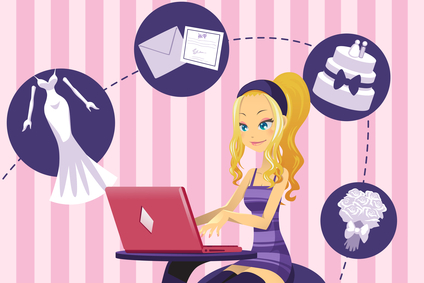 You've got the ring. Now the fun and exciting planning and shopping for your wedding begins. Before you set off to celebrate this holiday season, consider using Black Friday and Cyber Monday as a great time to stock up for your big day. There are several big ticket items, such as bridal party dresses, shoes, and accessories, that you could save some serious money on and you may not have to look too far. And don't forget the other odds and ends, like bridal party gifts, favors for guests, and table decorations which can be found at stores you may not have thought of.
Department Stores
Have a look at department stores for deals on bridesmaid dresses, shoes, jewelry, and lingerie. Enlist the help of your bridal party and remember to have sizes that you need on hand in case you do find the perfect dresses. My bridesmaids and I were able to find the prefect dresses for the bridal party at a department store sale. It was so much more affordable and everyone was happy about that.
Shoes, need I say more. Don't forget to find a pair that you can stand in, and more importantly, dance in, comfortably. Department stores are the perfect place to look at accessories to go with your new bridesmaid dresses and shoes. Finding the perfect way to accessorize your dress is important too. Remember to keep your receipt and know your store's return policy. If you buy a few options, you can return the ones that don't quite work. Lastly, don't forget to look at lingerie to wear under your dress and for the special nights to follow. Finding the right set to wear under your dress can be quite the task, but with Black Friday prices, you may be able to find the perfect bra and panties at the perfect price. To find out more about the great opportunities at department stores on Black Friday check online before you shop.
Big Box Retailers
The cost of wedding decorations, favors, and other similar items can add up quickly. Take advantage of Black Friday prices at big box retailers. Before spending a large portion of your budget, think outside of the box. Table cloths, items for centerpieces and picture frames for displaying photos or holding place cards are all things that big box retailers carry. All of those great gadgets that are advertised as holiday presents can be used as wedding party gifts without having to blow the budget.
Craft Stores
Craft stores also have wonderful sales on Black Friday and are awesome places to find creative decorations and unique and special gifts for your bridal party. You can also find wedding favors and get ideas and inspiration by cruising the aisles. When I was planning my own wedding, I shopped at my local craft store and was able to find the perfect items to create my centerpieces. I also found unique gifts for my bridesmaids that I was able to personalize. Things like that can make your wedding more personal and really represent you and your style.
Online
Shopping online can be great on Black Friday and you can find even more great deals on Cyber Monday. Online retailers, as well as department stores and big box stores, often offer great deals on Cyber Monday. It's great if fighting the crowds on Black Friday isn't your cup of tea.
Remember to do your research before you shop. Check ads that come in the newspapers and online. Make a plan to figure out where you are going to shop and which items you're going to buy. Most importantly, have fun and enjoy every moment up to your big day!
Susan Johnson
Susan is a personal shopper who enjoys helping people make fashion choices.