Search out the best place to spend some time away with your favourite friends
by Patricia den Boer
Whether it's a bachelorette party or quality downtime with your leading ladies, a few days away at the spa will have you relaxed and ready for anything life throws your way. But we're not just talking about any run of the mill spa. From healing retreats to shopaholic getaways, here are the top choices for girl time.
Zen friends
Ste. Anne's Spa Grafton, Ontario
Life can seem hectic at the best of times, but especially when leading up to the big day. Often there isn't enough time to connect with those closest to you. If pre-wedding plans or work has got you frazzled, then a wellness retreat might be just what you need. Situated in the Northumberland Hills, Ste. Anne's (all- inclusive) Spa offers every indulgence needed to help women get in touch with their emotions and each other.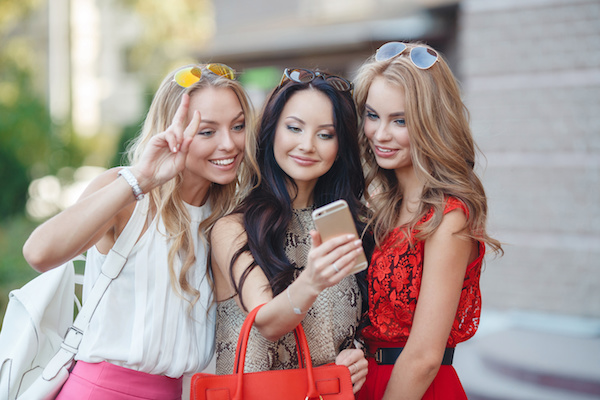 Conceived as a "beautiful garden where many will be healed," Ste. Anne's rests on 227 hectares (570 acres) among the hills of Northumberland County, overlooking Lake Ontario. This is a spa village in the making, with a variety of fitness and nutrition programs at its core. A unique focus on human interaction is reflected in Ste. Anne's carefully developed massages, facials and reflexology.
"We are intent on the fact that all of our treatments are human-touch based," Ste. Anne's owner, Jim Corcoran says. "The therapist is always in the room with you participating in the treatment. The effectiveness is in the energy of one human being flowing into another, and that can't be replicated with the intervention of machinery."
If you're looking for an all-around balance, book the Ste. Anne's Signature Facial – a combination of beautifying treatments using the spa's signature line of skincare products. The treatment also includes a wonderful foot soak and shoulder massage. If you're looking for something a bit more therapeutic, the deep tissue massage is a must. Feel the stress relief, decreased muscular tension and increased energy.
Whether you desire one of the 16 rooms in the main inn, or a private spa cottage all to yourself, you will find Ste. Anne's exclusive in every way, and yet extremely welcoming and warm – just like coming home.
The spa is complete with Frette Italian linens and towels, sandals and plush robes. The large, airy, and exquisitely decorated rooms recall English stone cottages and schoolhouses, and offer special touches such as fireplaces and whirlpools. Onsite, you will find a luxury spa, which offers over 35 rejuvenating treatments specifically designed to refresh and de-stress your outer and inner self. A fieldstone grotto, plunge pool and lap pool, and eucalyptus steam room only add to your soothing experience.
A variety of wellness classes help keep you active throughout your stay. The 45-minute meditation class is mind-calming serenity, which will prepare you for one of the best night's sleep in beautifully appointed rooms and comfortable surroundings.
A visit to St. Anne's includes a full breakfast, perfectly-portioned lunch, afternoon tea, and savoury dinners, which typically features three entrees. The afternoon tea is an indulgence of its own, and a unique ritual of Ste. Anne's. After a relaxing treatment, cozy up in the dining room for a beautifully steeped, very civilized cup of tea of your choice, and get caught up with friends. Ste. Anne's signature teas include scents of all kind. (Our favourite was Velvet Earl Grey with a scent of vanilla.)
At dinner, linger over a meal of healthy, delicious fare prepared by skilled chefs who sometimes make an appearance. (Bring your own wine as the spa is licence-free). Enjoy a group of four savoury dips or unforgettable dishes, such as perfectly pan-seared cod. These delectable dishes in a relaxed and tranquil ambience makes discussion over good food the lasting language of friendship once again. W
What does all-inclusive mean?
Your reservation includes taxes and service, with no up-charge for steam rooms, hot tubs or any fitness facilities. Guests have complete use of the facilities during the stay and it includes beverages, meals, wellness classes and the treatments of your choice up to $120 per day. The resort is not licensed, so remember to bring your own wine, which the dining staff can open, but cannot pour for you.
Details: Ste. Anne's Spa (www.steannes.com; 888 346-6772)

Other Spa Experiences
Grail Springs Wellness Retreat, Bancroft
If you're all about wellness, then start your journey here. For over 20 years Grail Springs has been dedicated to the well-being of people, animals and planet. Programs are designed to cleanse the body, mind and spirit, and bring healing and balance to those who seek health and longevity. The centre is located on 100 acres of forest and trails, an intimate sanctuary that invokes peace and inspiration. Additionally, try a juice cleanse to boost detox or weight loss goals. End your perfect day sharing new ideas delivered by guest presenters. All this and more is waiting for you on a picturesque spring-fed lake (www.grailsprings.com; 877 553-5772).
Merrill Inn, Picton
Celebrate your rite of passage from singlehood with an indulgent culinary getaway. Fusing old world charm with a picturesque setting in Prince Edward County, Ontario's newest foodie destination, the 13-room Merrill Inn, is an ideal base for an epicurean bash (www.merrillinn.com; 866 567-5969).
Rosemount Inn, Kingston
Begin with some gallery hopping of leading artworks at Sandra Whitton Gallery or Modern Fuel, an artist-run centre. Then, hit the theatre scene. Since opening its doors in 1879, the recently-restored Grand Theatre has been one of Canada's leading venues, showcasing emerging artists as well as icons such as Betty Grable and Sarah Bernhardt (www.rosemountinn.com; 888 871-8844).
Fairmont Le Château Montebello, Quebec
Explore with a horseback ride along nature trails meandering past the blue waters of the Ottawa River, the stately buildings of Manoir Papineau (a National Historic Site of Canada), and towering 300-year-old oak trees. Other inspiring outdoor options include golfing, fishing, tennis or learning to master off-road driving at the Land Rover Driving School Experience — the choice is limited only by your stamina. At day's end, the dose of fresh air and exercise will guarantee a good night's sleep in your historic accommodation. (www.fairmont.com/montebello; 800 441-1414).
Compiled by Michele Peterson.