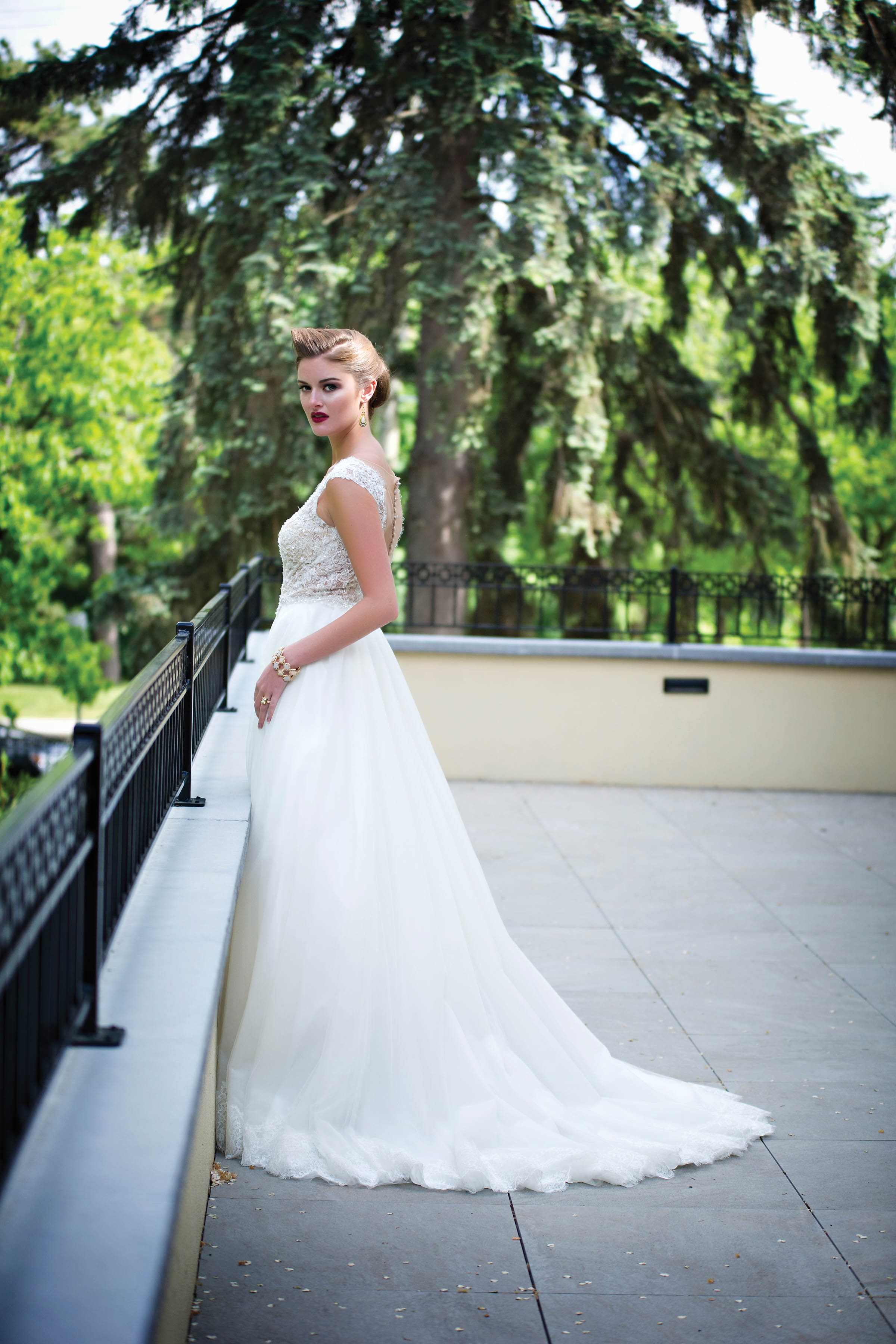 Timeless glamour inspired by the exhuberant style of the Roaring Twenties.
Photos by Lindsay Gibeau Photography
Shot on location at Le Cordon Bleu Ottawa Culinary Arts Institute
F. Scott Fitzgerald's iconic novel The Great Gatsby reflects the exuberance of the Jazz Age and the giddy panache of the Roaring Twenties. That's why, nearly 100 years later, it continues to serve as inspiration for extraordinary, stylish celebrations. And that's why wedding pros from the region chose The Great Gatsby as the theme for a styled wedding photo shoot at Le Cordon Bleu Institute on Laurier Avenue.
"We've always been inspired and intrigued by the 1920s era and the glitz and glamour of it all. Our vision was to mix the glam and indulgence of that period with the timelessness of love and marriage," explains Shadia Sallit of Lily & Roses Exquisite Events. "The bride's hairstyle and up-do were definitely inspired from the style of that period, and we loved mixing that look with her classic white gown. Great Gatsby was all about the dinner parties, so we decided to create an intimate dinner party feel with our gold and green table setting, which really worked with the layout they have at Le Cordon Bleu."
The aim was to create a timeless look, rather than a trendy vibe. "Lily & Roses Exquisite Events has produced a variety of styled shoots throughout our years in business and this shoot is our most classic looking project. We put together a great team who shared our vision and goals for this shoot and it was a collaborative effort. We were so lucky to work with the talented photographer Lindsey Gibeau," Shadia notes.
"Gold is the staple colour from that era, so we started with that and worked from there. We wanted to give the shoot a classic and clean look while still remaining glamorous yet elegant, so we chose different shades of green and white to help make the gold accents pop. It was a beautiful day and a lot of the shoot was done outdoors, so the green worked really well for this project. We couldn't have been happier with the venue, Le Cordon Bleu."
Vendors and Contributors
Photography: Lindsay Gibeau Photography
Planning, Decor and Flowers: Lily & Roses Exquisite Events
Venue: Le Cordon Bleu Ottawa Culinary Arts Institute
Model: Models International Management
Gown: Simply Beautiful Bridal Boutique Kenneth Winston
Stationery and Papers: Pretty Papier
Cake: JS Creations
Hair: SO ME, Hair Design
Makeup: Katie Mintha
Rental: Groovy Linens