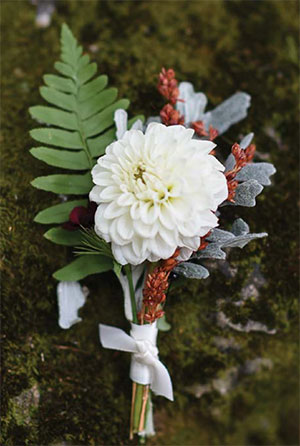 Style your guy with the colours of autumn.
Now that peak wedding season is behind us, there's nothing we anticipate more than seeing the seasons change before our eyes — leaves tinged with deep, rich burgundies mixed with bleeding vibrant yellow and orange hues.
Plus, with many grooms finding a fall colour palette more suitable to their tastes, we're making the case for seasonal boutonnieres that your groom will love sporting on his lapel for the big day. See how you can incorporate seasonal style into your groom's attire with these beautiful fall boutonniere ideas.
Some favorite autumnal blooms include the rustic, earthy colours of the season like rust-colored chrysanthemums, orange lilies, rich sedum, and red daisies.
Incorporate cold-weather elements like oak leaves, blades of wheat, pinecones, or even acorns for a statement-making boutonniere that boasts Mother Nature's fall-inspired details.
If you want to go beyond the traditional autumnal shades, add some accent flowers to offset the warm tones.
Bright yellow Witch Hazel, cherry Goldenrod, Aster, vibrant Mexican sage, and lavender are perfect complementary flowers that give an unexpected pop of colour to your groom's boutonniere.
If you're looking for a more polished, clean look, incorporate fresh greenery like olive leaves or single air plants that add an elegant touch. Now that you've picked your blooms, don't forget to tie up your pint-sized arrangement.
Opt for something classic like luxe velvet ribbon or for more casual, backyard nuptials, use cords of rustic twine or coloured string — another way for your groom to personalize his floral accessory to his liking!