Country Loving
October 7, 2016
compiled by Nicolina Leone
photos by Anna Jones Photography
Staying in the relaxing Almonte Riverside Inn the night before Asal and Marc's wedding was very involved. With a Friday wedding, the likelihood of another wedding going on the day before, Thursday, was very low which meant the couple and their wedding party could head to Evermore Weddings and Events to set up.
After a few walk-throughs of the ceremony and rehearsal dinner at an Italian restaurant in Almonte, the bridesmaids and groomsmen went home, but Asal and Marc had a bit more work to do.
"We stayed up pretty late because I wanted to make sure the room was set-up really nicely for the next day. There was this really beautiful bay window that I wanted to have all the dresses hanging from, but the way that the curtains were hanging — we had to get up on a ladder and adjust them so the dresses could all hang nicely."
They also brought their steamer from home to make sure all of the men's suits were pristine for the next day. Finally, they could retire to their separate rooms and rest.
The morning of October 7, Asal headed down for breakfast (staggered time from Marc, of course), before the bridesmaids arrived. "But I couldn't eat much because I was nervous. I don't think I ate properly that whole day."
Hair and makeup arrived from Rinaldo Hair Designers and Spa shortly after the girls, who were outfitted in their personalized robes and enjoying mimosas.
When it came time for Asal to put on the dress, it was surreal. "It seems like a bit of a blur. My mom was definitely more stressed than me. When my mom gets stressed she gets really quiet and really focused. I remember we had gone to All That Glitters to get the dress after its final alterations and the lady was showing my mom how to properly do up the dress — she was paying such close attention because she didn't want to mess it up on the actual day. I could tell that on our wedding day she was so into doing that, that she wasn't really there."
"I tried a few styles but it became obvious that I wanted a more close-to-the body fit and lace really appealed to me. When I went to All That Glitters in Bells Corners we found the right dress pretty quickly. I tried a few more but kept coming back to the original one."
Because the couple wanted to start taking photos before the ceremony, they opted for a 'First Look' near the back of the barn. "He waited with his back turned until I came through and surprised him. He was excited and we hugged and kissed. Then I thought about it and was wondering if we should have kissed before we were married."
When the time came for the ceremony to start, Asal tried to soak it all in. "I got pretty emotional going down the aisle and I felt like it was all going so fast I couldn't believe it. It just started and I thought, 'Oh my God.' I remembered the day before the coordinator at Evermore was saying 'give yourself time, don't go out until you're ready and I tried to pause but I just felt like 'Oh my God, this is happening.'"
Emotions were high all-around as the bridesmaids were tearing up and even the groom. "Marc got a bit teary which was so cute. I was definitely a mess, I could tell from pictures after too."
After their "I dos," the couple had a moment to themselves. "The coordinators met us at the willow tree with some champagne and brought us some of the hors d'oeuvres — which, even though they were so delicious, I couldn't finish them. I was so annoyed with myself."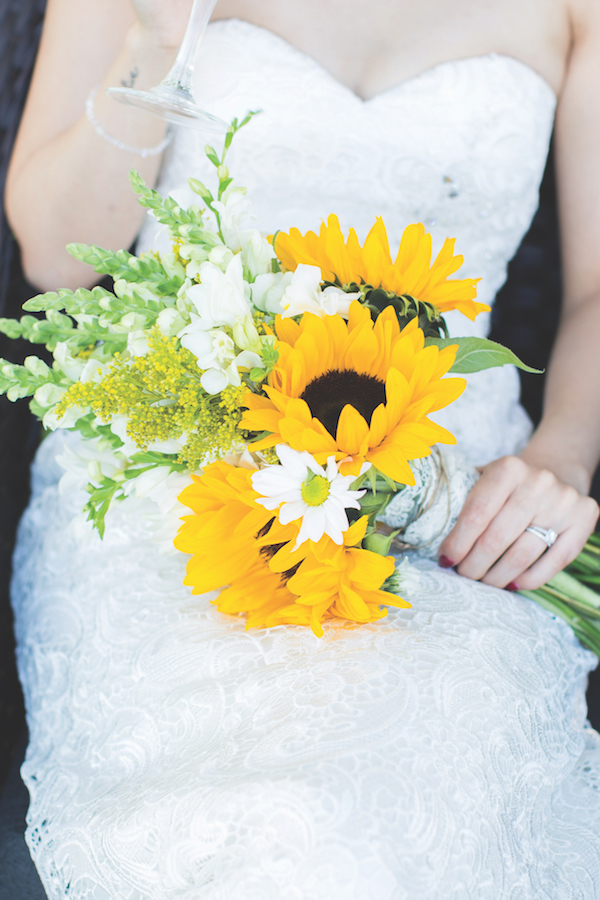 As they moved into the venue for dinner, Asal was thoroughly impressed with the set up. "It was beautiful. So well coordinated. I didn't have to worry, they were so intuitive and so helpful, I couldn't have asked for better help from them. The venue is already so beautiful and they went a step beyond that. It was like it was professionally coordinated, they weren't just providing the venue, the were doing all of the grunt work to make sure everything fell in the right place and the right time."
Asal's decor inspiration was fall colours. "I really liked burgundy as the main burst of colour and white and gold as accents like little white pumpkins and gold here and there."
The time of year and the barn setting was perfect for the couple who are very country at heart. "Both of us wore cowboy boots from Apple Saddlery."
The dinner, a hit, at Evermore was catered by Salt and dessert, donuts, were from Suzy Q.
Dinner turned into dancing which was expertly executed by Extreme Entertainment. "I worked with him up until the last day to give him sample music of what I wanted and proportions of what I wanted from new music to old music. I even gave him a few suggestions for Persian songs for my family."
Poutine, also provided by Salt, for the midnight buffet was the only thing that got guests off the dance floor. "It all happened really quickly. I think it was actually a couple of days before the wedding that I got really overwhelmed with our family coming in and got really emotional. I thought, 'I can't believe everyone is here for us.'"
The couple hired videographers Matt and Kat Wedding Photography. "Marc and I both noticed that they were so in the background and they never got in the way. Originally, we didn't want to have one, but they ended up giving us our best souvenir of the day. We were so happy with the decision to have a videographer because I don't think the photos could ever compare to re-watching the emotions live. It was the best investment we ever made."
Another vendor booked that had the couple satisfied: Voeux D'amour takedown service, which was a huge reassurance for the couple ensuring that they could relax and enjoy the whole night. W