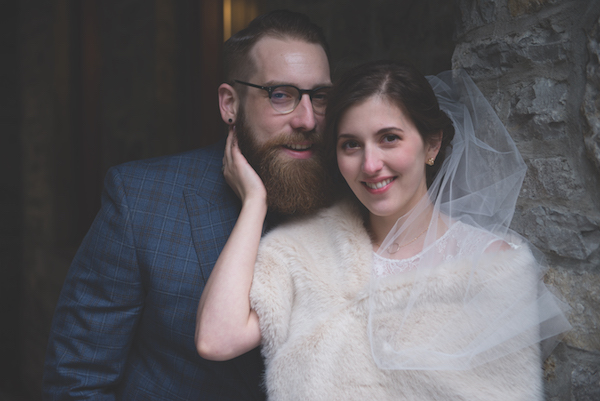 In Perfect Harmony
Compiled by Nicolina Leone
Photos by Mark Cooper Photography
Candice and Charles met during frosh week their first year at the University of Ottawa in 2007. "He was there with his whole friend group and I was there with nobody," said Candice. "So his group adopted me in. Charles and I had three classes together first semester, sometimes we'd go for coffee, it was just friends at first."
But after doing her masters out of town, the two met upon Candice's return to Ottawa and this time coffee wasn't just coffee. "That's when it became more than friends."
Fast-forward to the morning of October 22, 2016. Candice is heading to AKA Beauty Concepts with her bridesmaids and mom for hair, makeup, and a few glasses of champagne. Although the day was overcast and rainy, Candice looked on the bright side, "It's good luck and people kept telling me it was perfect for photos, so that was ok."
Candice would be wearing a custom dress from the Handmade Bride. "The meetings were with the actual designer, Stephanie Davis, so she built it around my body — there weren't many fittings or alterations to go to. Now it's like an heirloom. It was very 'poofy' — there was tonnes of tulle because I'm kind of a giant Disney princess."
Once dressed and at the Annunciation of the Lord Parish, Candice anxiously waited for her walk down the aisle. "I felt really excited. I was at the church for maybe 30 minutes before the actual ceremony, so I was just sitting in a back room waiting for things to start."
Charles is a teacher for the Catholic school board and the priest that wrote him the letter required to work for the board was the same one that would be marrying Candice and Charles that day.
"We did a marriage prep class and at the end, you get a little booklet where you can choose your vows, readings, and hymns. So you could make it really personal even though you're going through the church's selections. I picked things that I felt represented us. If there was a reference to a heart or it felt like a sonnet that reminded me of a class that we took at Ottawa U, then I would pick that one."
Not only did they seal their vows with a kiss, but also a high-five. "It was like, 'ya, we did it!'"
The wedding party made their way to the Courtyard Restaurant in the ByWard Market where the couple had gone for New Year's Eve dinner the year before. She knew it would be the ideal place for their intimate 40-person wedding.
To add decor to the darling downtown resto, Candice, a librarian and devout reader, made all her flowers out of old book pages.
"I worked on them for about a year. I bought a lot of the books from the Friends of the Ottawa Public Library used book store. I would cut each petal, then watercolour it and curl it and stick them all together."
She stuck to her and Charles' favourite books. "I used Harry Potter and Lord of the Rings and I tried to insert some Shakespeare and a little bit of Dickens for Charles. And there may or may not have been a little bit of Twilight in there."
"For centrepieces, I had my dad cut out the centres of some old books and filled it with some moss and the flowers. And to continue with the theme, everyone had a place card with their name hand-stamped on an old library checkout slip."
After dinner they changed over the room and Candice and Charles went into their first dance, which was very unique.
"One of Charles' groomsmen did sound-engineering in school, so he compiled a song for us."
Candice and Charles cut their cake from the Top of the Hill bakery and continued the night with merriment and frivolity. At the end of the night, the couple sent guests away with a very fitting parting gift.
"Everybody got a book as a thank you. They were books that Charles and I enjoy."