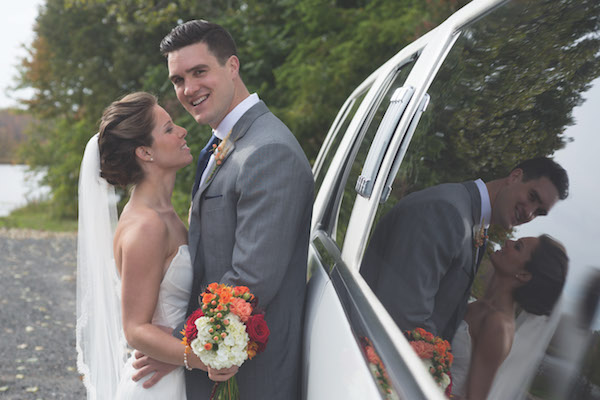 Autumn Romance
October 2, 2015
compiled by Lindsay Ruck
photos by Kathi Robertson Weddings
Catherine and Rob met while working at the same bar on Rideau Street in downtown Ottawa. Despite the cautionary tales of work relationships gone wrong, the pair threw caution to the wind and decided to take a chance.
"One of the cardinal rules of the bar industry is that bar relationships don't last, or if they do, are wrought with drama. We both had our minds in the right place and knew what we wanted, and it all worked out in our case."
Catherine and Rob would dispel another relationship myth when Rob accepted a position as a firefighter with the Air Force and headed to Borden, Ontario for a year of training, forcing the pair into a long- distance relationship that saw Rob drive home every weekend to be with Catherine. It was on one of those trips home that he asked Catherine to be his wife.
The pair chose to say their "I do's" in front of 85 guests at Temple's Sugar Bush.
"We chose the time of year and venue because the fall has special meaning to us, as that is the time of year we started dating and because our first date was at a pumpkin patch."
The bride appeared with her mother and father by her side holding a beautiful bouquet of hydrangeas, dark red roses, fall mums, orange spray roses and orange hyperiucum berries provided by Petals and Paint.
"I wanted Rob to be a part of my dress selection but he always refused. After I purchased my dress, I couldn't wait for him to see it. In the end, it was worth the wait and I was very happy he hadn't seen it beforehand. His reaction was priceless. Our photographer captured those moments during our first look."
Purchased from Renewed With Love — Ottawa's designer bridal outlet — the bride donned a stunning A-line gown from the Hayley Paige Blush collection.
The groom and groomsmen looked dapper in grey suits with crisp white shirts and navy accessories. Catherine's three maids wore navy dresses in different styles.
As a nod to the season, Rob's aunt created each "placecard" using gourds with a wooden name tag for each guest. Each table was topped with a bundle of wheat tied with orange ribbon and the mantel was adorned with pumpkins and wheat.
Another DIY creation came together the night before the wedding, as the bride-to-be found a window of opportunity while her son was napping to make the seating chart for the day.
Ottawa's ThimbleCakes provided a small cake (for cutting) and yummy cupcakes in three flavours: pumpkin with chocolate chips, carrot and chocolate.
Surrounded by the beautiful colours of the changing season, Catherine and Rob enjoyed a day filled with love, laughter and those who mean the most. W