Photographer: Kathi Robertson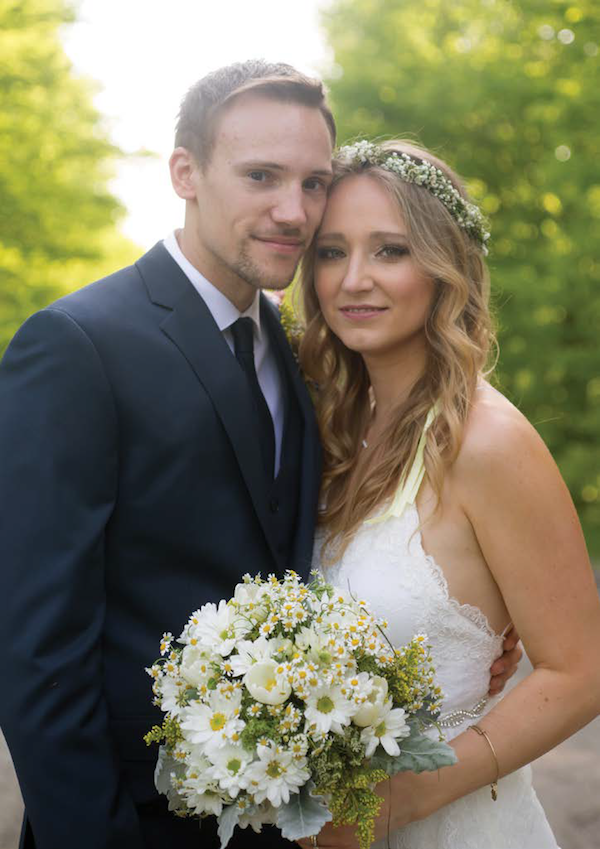 A Bohemian Affair
May 17, 2015
Jason asked Christina to be his wife atop Arthur's Seat, a mountain peak in the middle of Edinburgh, Scotland.
The pair were living in Scotland at the time, but Christina was heading back to Canada, leaving Jason in Edinburgh for a little over two months. As the sun rose over the mountaintop, Christina said "yes."
The couple planned an intimate ceremony at Strathmere, a 200- acre country retreat in North Gower, Ontario. The venue's immaculate grounds and oasis-like surroundings proved to be the perfect place to say, "I do."
Christina chose an Erin Fetherston dress for her bohemian- inspired day, while her bridesmaids wore Canadian-made Lovely Maid's infinity dresses from Ottawa boutique, The Handmade Bride. Atop the bride's and flower girl's heads were ethereal flower crowns – the perfect accent for a boho affair.
Surrounded by friends and family, Christina made her way to her groom with her parents by her side. The couple exchanged vows at an altar adorned with ribbons – a handmade and picturesque touch crafted by the bride's mother. "They added to the bohemian, relaxed theme and gave off a better vibe than flowers. My mother pretty much came up with all the ideas. She is very good at that sort of thing and very crafty."
The reception, held at Strathmere's lodge, continued on with the relaxed feel of the day. Daisies and wildflower arrangements were provided by Stone Blossom. An old suitcase doubled as a card box – a nod to the couple's love of travel. Another touch of travel was found in the handwritten postcards that took the place of table numbers. Each postcard featured a different European city the newlyweds had visited along with an anecdote.
In lieu of a traditional cake, cake pops were confectioned by Ottawa's Thyme & Again. A moment to remember occurred during the first dance al fresco. As the couple swayed to Bob Marley's Is this Love, guests held sparklers to light up the night. "We first heard the song when we were living abroad in a tiny apartment and it reminded us of our relationship. Just about love being enough and not needing anything else to be happy."
As a parting gift, each guest left with their very own handmade seed bomb.
After speeches and well wishes from loved ones, the newlyweds prepared for their next travel adventure – a honeymoon in Jamaica.
Invalid Displayed Gallery