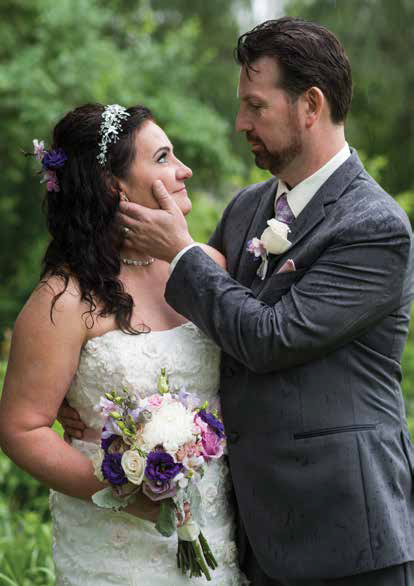 Meant to Be
June 12, 2015
compiled by Lindsay Ruck
photos by Andrew Van Beek Photography
Just as Elizabeth was about to give up on the online dating scene, she received a message from Tony. A successful first date would be the beginning of this couple's happily ever after.
After moving in together, discussing marriage, and browsing sparkly baubles, Elizabeth prepared herself for a Christmas engagement. But Tony had other plans in mind.
"[Tony] picked me up some random weekday in November and took me to the Rockcliffe Park Overlook."
After snapping a few shots of the beautiful sunset, Elizabeth turned to see Tony on one knee.
"He said I was the woman he had looked for his entire life, but never thought he would find. He proposed November 12 – 18 months exactly since our first date."
Over the course of those 18 months, the couple experienced personal hardships and heartbreak. Despite the lows, their love for one another only grew stronger.
"Walking through so much together in such a short period of time made us both realize we could lean on each other and we can make it through anything together."
The couple chose Strathmere – a 200-acre country retreat – for their June 12, 2015 nuptials and reception.
"The second we walked into the renovated barn, I thought it was a nod from my dad who lived on his family farm."
While the barn was planned for the reception, Strathmere's beautiful landscaped grounds were designated as the ideal surrounding for an outdoor ceremony. But a morning rainfall which lasted well into the evening meant moving the 'I dos' indoors. Luckily, Strathmere boasts several picturesque venues which, in the end, proved to be the perfect setting.
"Both Tony and I thought it was more intimate with the candles and it had worked out that way for a reason. It may have not felt as warm and romantic if it had been outside."
Inspired by the magic of all things Disney, guests enjoyed instrumental renditions of several Disney classics before the ceremony began.
Elizabeth made her entrance on her mother's arm donning an Oleg Cassini creation found at David's Bridal.
"There was no need to look any further once they added the blush belt with flowers and crystals." Tony, who sported a grey tuxedo, was just as in love with his bride's selection.
"I thought [Elizabeth] looked incredible. I couldn't believe my eyes."
Another pleasant surprise for the groom appeared as the bridesmaids made their way down the aisle.
"Tony had no idea the dogs were in the wedding until my bridesmaids, Erika and Stephanie, came down the aisle holding Zoe and Abbie."
Besides looking adorable, the dogs had the important task of carrying the rings – tied around their necks with a purple ribbon.
Elizabeth's favourite colour was also found in the bridesmaids' dresses, table linens, the groomsmen's paisley-patterned ties and peppered throughout the bride's bouquet.
Cherry blossoms were found throughout the venue, including adorning the ceremony arch and centrepieces. For a personal keepsake, each guest was invited to add their paint thumbprint to a cherry blossom "guestbook."
"I have a cherry blossom tattoo that I got in honour of my mom because I had read that though they look beautiful and fragile; they have deep roots."
Disney-inspired elements were also found in the guest favours. Each woman in attendance received a white Cinderella carriage candle embellished with a "Happily Ever After" ribbon. Guests also received a DIY-coaster made of clipped pictures.
Despite the rain, Tony and Elizabeth enjoyed a whimsical and romantic day with loved ones. W
Invalid Displayed Gallery