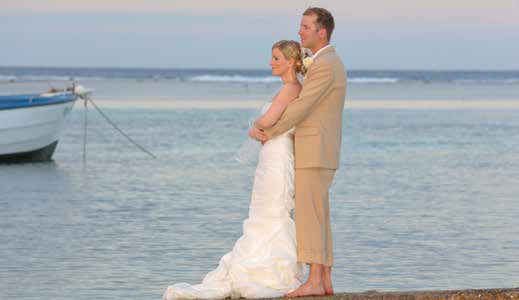 Lasting Love
January 4, 2014
Compiled by Lindsay Ruck
Photos by Paul Trepanier Photography
It's a special moment when you fall in love with your best friend, that person who you have known your entire life and feel closest to, and Andrew Emmans and Jenny McKenzie did just that.
"Our fathers have been friends since they were teenagers. We apparently met when we were babies, but our memories of each other as kids are from summer camping trips in Algonquin Park, days spent at my mom's farm or at the beaches of yacht clubs while our fathers were sailing."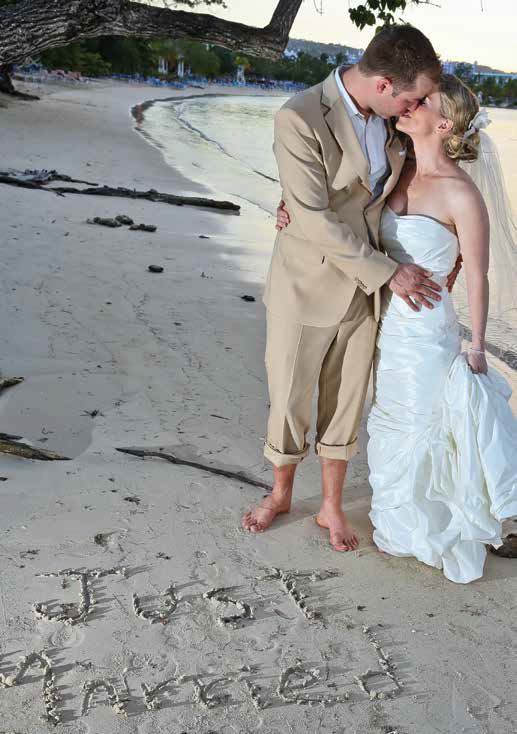 The pair lost touch as they grew older and didn't reunite until they both made the move to Ottawa for school. Staying in touch through online conversations, Andrew and Jenny finally reconnected on one of Ottawa's most exciting days of the year.
"He invited me to a Canada Day party. At the time I declined as I had plans, but those plans fell through and suddenly I was left with nothing to do on one of the best weekends in Ottawa, so I decided to go."
As though no time had passed, Andrew and Jenny spent the day catching up and met the next weekend to participate in an annual family boat race.
"It became very apparent to both of us how compatible we were, and we just couldn't spend enough time together."
While enjoying a "trip of a lifetime" touring the Canadian Rockies, Andrew proposed to his best friend on top of a mountain in Lake Louise. A proposal is special but the ring Andrew proposed with made it even more memorable.
The 1926 vintage ring was originally Andrew's great-grandmother's. "Andrew's great-grandfather was the diamond buyer for BIRKS. He designed the ring and had it made by BIRKS, and he handpicked each diamond that went into it. It has been passed down in the family and in addition to being incredibly unique; it has so much sentimental value."
With a wedding date of January 4, 2014, the couple looked to warmer climates to tie the knot. RIU in Montego Bay, Jamaica proved to be their dream wedding destination.
While most arrangements were made with the resort through e-mail, there were a few items the couple sourced locally that went perfectly with their "beachy and natural" wedding vibe.
"Because there were a lot of unknowns with getting married in another country, we wanted to make sure to bring some things down that would ensure that it wouldn't be a disaster!"
Arriving a week before the big day, Andrew and Jenny brought several decor items with them, including battery-operated tea lights, string lights, plastic crystals and place cards.
"We also bought and cut our own burlap runners, the netting that mimicked fishing nets, and sea shells. Oddly enough, those were hard to find in Jamaica!"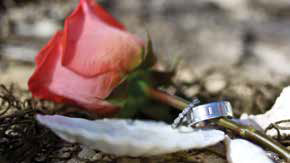 One of the most important items of the day also proved difficult to find at first. Jenny knew she wanted a wedding gown that would fit in with her tropical surroundings. On a visit home in Orillia, Ontario, the bride-to-be decided to check out Loved Again Bridal in Barrie, a boutique that carries both new and used dresses. Amongst the silk and satin, Jenny found the one – an ivory, strapless, sweetheart gown with a fit and flare silhouette. The gown was hemmed, bustled and tailored at With Love Bridal in Stittsville and a champagne satin sash was added.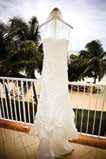 With 80 of the couple's closest friends and family members in attendance, Jenny walked down the aisle on her mother and father's arms. "You hear about destination weddings having 10 to 30 people typically, so hitting the numbers we did was a very exciting surprise."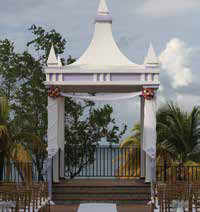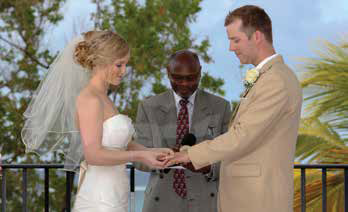 Following the ceremony, guests enjoyed dinner and dancing at the resort's open air beachside restaurant. "We were able to have a private reception and then get straight to dancing under Chinese lanterns and the stars."
The centrepieces consisted of white and coral flowers and were accented by a candle in the centre. The three-tier cake was provided by the resort and featured chocolate and vanilla cake, vanilla cream frosting and was decorated with coral flowers.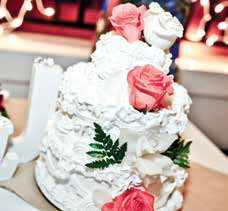 "It was amazing to spend a week with so many friends and family in such a beautiful place."