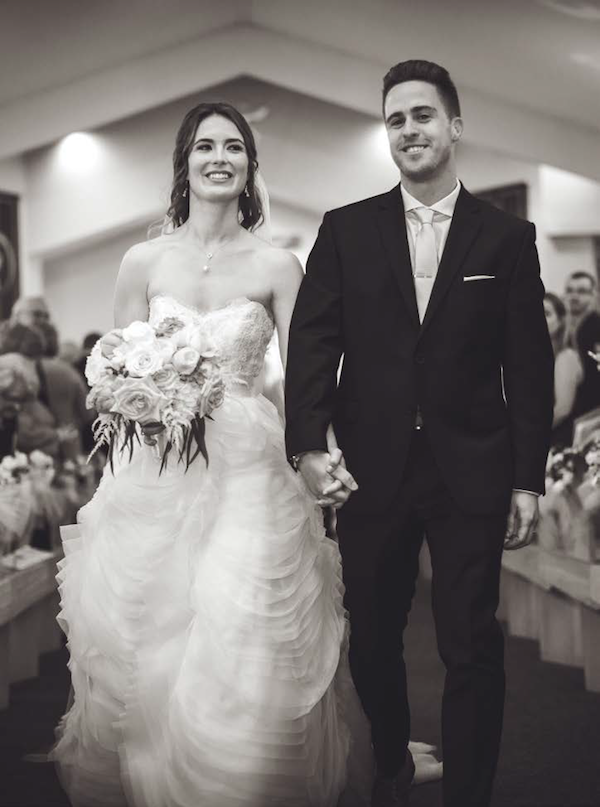 A Risk Worth Taking
Compiled by Ariel Vered and Photos by Jaimy Kertland
Katherine and Evan met four years ago at the gym while they were both working for the Department of National Defence. "He was super forward," she remembers of Evan, who came over and introduced himself. "At first, I was like, 'why is this person talking to me?' Later on, he emailed me. I gave him a chance and I'm glad I did because here we are today," she said.
In December 2014, Evan told Katherine they were going on a date somewhere. He took her to Upper Canada Village for the Alight at Night Christmas light celebration. They went on a carriage ride and he proposed in front of one of the houses.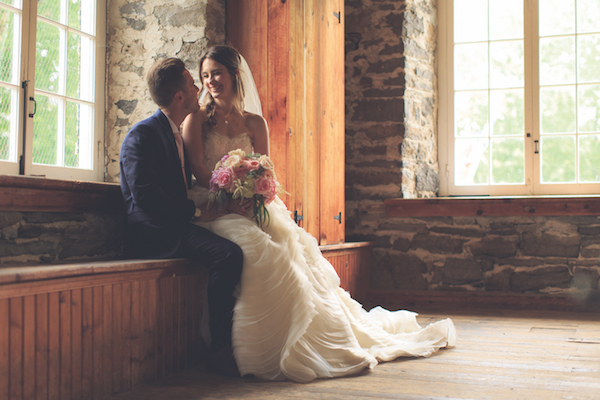 Since they weren't in a rush to get married, the couple decided to wait until spring 2016 to get married. They chose to have the ceremony at St. Leonard's Catholic Church in Manotick where Katherine grew up, followed by a reception at NeXT restaurant in Stittsville. The self- described risk-averse couple didn't want an outdoor reception that might get rained on and food was very important to them. They had heard great things about NeXT through their research of Ottawa venues. "We went to meet with Chef Michael Blackie and his wife Jillian who coordinates all the events and we got a good vibe from them," said Katherine. "It was meant to be, I think."
Katherine found her wedding dress, an A-line strapless dress with a sweetheart neckline, at David McCaffrey before it closed. The top of the dress featured a lace overlay with pearls mixed in. The dress' organza ruffle skirt extended into a long train. "The beautiful train, that was what sold me on it," she said.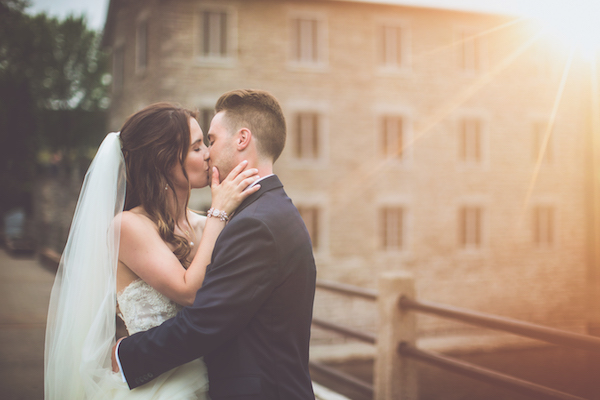 The vision for the wedding was a classic, traditionalist vibe. The bridesmaids wore onyx dresses with matching blue ties worn by the groomsmen. The wedding décor featured light pinks and gold accents throughout. "None of the colours were the main focus point," Katherine said. "It was supposed to be subdued and classic."
The happy couple and their guests enjoyed a very delicious meal at NeXT that featured kale salad, tom ka guy soup, a choice between prime rib and striped bass and crème brulee for dessert. Katherine's friend from work made the wedding cake, a beautiful three-tiered vanilla cake, as well as lemon cupcakes and carrot cake cupcakes, Katherine's favourite.
The night before the wedding, Katherine found that her stress level was very high. When she woke up, it was pouring rain outside. And yet, "I've never felt so calm in my life," she said. As a generally shy person, Katherine admitted that the thought of being the center of attention all day was not her favourite. As she got ready at her parents' home in Manotick surrounded by her girlfriends, her parents and her aunt, she recalls feeling super at peace and so happy. "And then I saw Evan standing at the end of the aisle, smiling at me," she said. "I felt very confident in the decision I had made.
"Everything else flew by," she added, "but in a good way." W