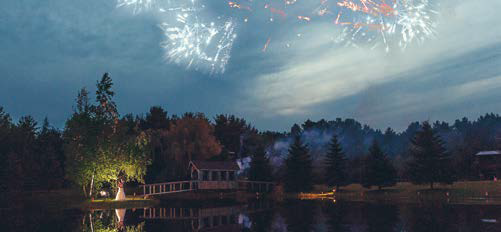 Unforgettable Fairytale
July 12, 2014
They say love happens when you least expect it. In Kim and Jesse's case, they were right.
"We met at my sister's birthday party. Neither one of us were expecting to meet anyone that night, so it took us by surprise."
On their three-year anniversary, Jesse asked Kim to be his wife.
"Jesse took me out for a romantic diner and afterwards he said he wanted to go home because he wasn't feeling well. When we got home, he told me to close my eyes and that he had a surprise for me. When I opened them, there he was, on one knee asking me to marry him."
Kim was once again pleasantly surprised as she began to plan for her summer wedding.
"I looked at a lot of bridal magazines. I didn't think I could afford a 'fairytale' wedding. But when we found Geneviève and Guy Desjardins, the owners of Bean Town Ranch, I realized that miracles do happen."
Located East of Ottawa in the beautiful untamed countryside, Bean Town Ranch proved to be the ideal ceremony and reception venue for Kim and Jesse's dream day.
Bean Town's turnkey wedding package – which includes wedding coordinator and owner, Geneviève Desjardins, holding your hand every step of the way – meant Kim and Jesse were in for a "stress-free" planning process.
"Geneviève gave us a checklist of everything that needed to be done and we did all the final decision-making. Geneviève is so wonderful at what she does that it seemed like the wedding package was custom- built just for us."
To complement the already rustic-country décor of Bean Town Ranch, the couple's main hue-du-jour was the soft shade wisteria – a colour similar to light lavender.
On July 12, 2014, surrounded by 114 of their closest friends and family members, the bride walked down the aisle with her parents by her side. Kim held a bouquet of white vandella roses, hydrangeas, calla lilies (also found in the men's boutonnieres), and a touch of bling for that extra shot of sparkle.
The bride's beautiful ivory lace A-line gown was a David's Bridal creation, featuring a side split tulle inset and lace-up back with a short chapel train.
The personally-composed ceremony and vow exchange was officiated by Kim's uncle.
"Jesse and I asked my uncle Michel if he would do us the honour of performing the ceremony, which he kindly accepted."
Upon the announcement of man and wife, the newlyweds were whisked away on a romantic horse and carriage ride around the ranch.
"This really stands out as one of the best parts of my day. It was nice to finally be able to be alone with Jesse."
Another special moment for the couple occurred during their first dance, as fireworks lit up the night sky.
In lieu of cake, Jesse and Kim called upon Ottawa's Cakey Bliss to provide delicious gluten-free tarts. Guests could indulge in white chocolate ganache with cranberries, a luscious chocolate mousse, mixed berry or classic apple pie.
Guests also enjoyed striking a pose at a photobooth.
"We have incredible pictures of our guests goofing off and enjoying themselves."
After a final goodbye with their nearest and dearest, Kim and Jesse fled to their secluded cabin in the woods, which was pre- stocked with tasty treats and wine.
"It seemed somewhat magical; almost out of a fairytale. Our wedding was everything [Geneviève] said it would be. Actually, it was even better."