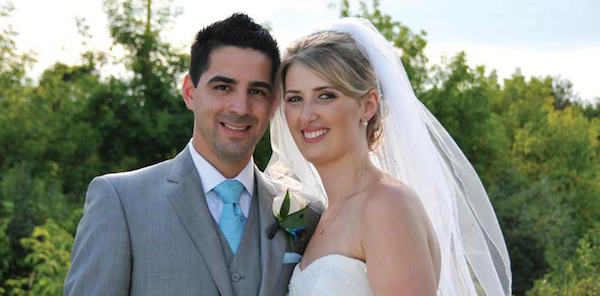 Rustic Romance
August 30, 2014
compiled by Lindsay Ruck
photos by Lysa Watnem Photography
Justin asked Krista to be his wife on a beautiful snowy evening in the nation's capital.
"After eating supper at the restaurant where we had our first date, Justin suggested we take the dog out for a walk along the Ottawa River. He then got down on one knee to surprise me with a beautiful diamond."
On August 30, 2014, at the Brookstreet Hotel, Krista awoke with her girls by her side, ready to marry the love of her life.
With hair and makeup complete and pre-ceremony photos snapped, both the bride and groom's parties made their way to the Marshes Golf Club.
"The bridal party did lots of work to make sure Justin and I didn't cross paths that morning."
As the string ensemble played, the bride appeared on her father's arm holding a waterfall bouquet of lilies and orchids, and donning a fit and flare Mori Lee gown found at Sinders Bridal House in Carleton Place. Within the bridal bouquet was a sprinkling of photo charms to remember loved ones who had passed away. The maids held bouquets of white roses and orchids.
Upon being announced as man and wife, guests gathered inside the Marshes for cocktail hour, while the couple posed for photos.
Krista chose her favourite hue, turquoise, for the colour of the day, and all décor was designed to complement the rustic-modern feel of the Marshes' clubhouse. As a nod to the beautiful golf course backdrop, the pair also incorporated golf-related accents.
"Instead of the typical tapping of the glasses to get the couple to kiss, we had a mini putt set up. Once someone got the ball in the hole, we had to kiss."
As Krista and Justin took on all planning and execution for the day, there were several DIY touches, including the design of the table numbers, the seating chart, the menu and the card box.
"We also made a collage of photos in a frame for the loved ones who, unfortunately, aren't with us anymore."
The bride's uncle created a video memento of photos, featuring images of the bride and groom from birth to present.
"He even included part of the video from the ceremony to end his slideshow. This was an amazing surprise."
The sweet treat for the day was a three- tier cherry cake. Each tier of deliciousness, created by Artistic Cake Design, was displayed on its own platform with a swan stand.
"We had three cake toppers: the bride, the groom with his golf set, and our little pug Rocky."
The 80 friends and family members enjoyed a delicious meal at the Marshes' The Ironstone Grill and were then invited to dance the night away with the newlyweds, who could now bask in the beauty and perfection of their special day.
"We did all the work ourselves and added all our favourite things into the wedding. It was truly personalized and the outcome was amazing. Well deserving of all the hard work it took to plan. All that was left was to party with family and friends."