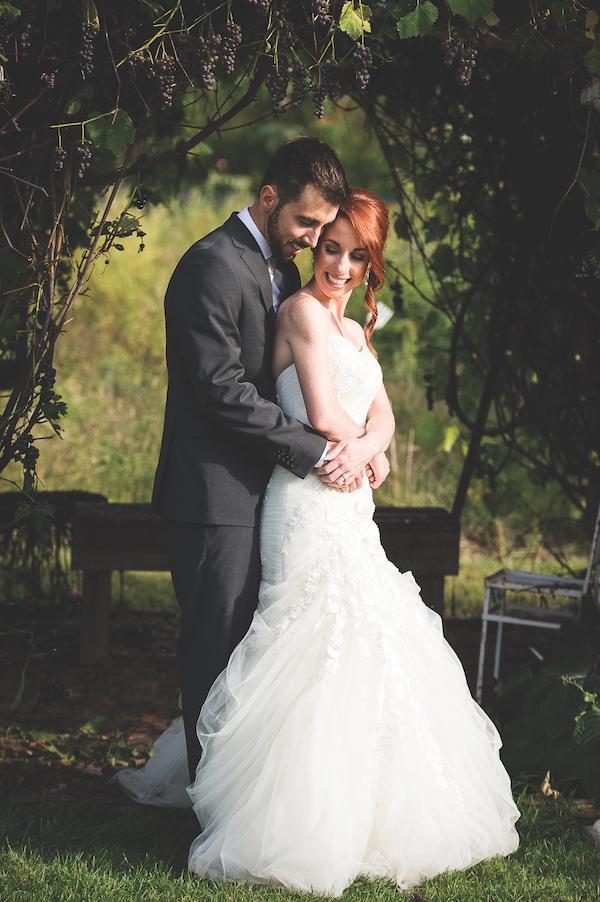 Rustic Elegance in Lavender
September 17, 2016
COMPILED BY ARIEL VERED AND PHOTOS BY ELENORA LUBERTO,
JEMMAN PHOTOGRAPHY
Melanie and Jacques met through best friends five years ago at a New Year's Eve party. They took the relationship day-by-day and within six months they were basically living together. Less than a year later, they bought a house together in Luskville, Quebec.
The proposal came as a surprise, even though "I basically harassed him for about a year-and-a-half to propose," she joked. Though they had shopped for rings, she thought it was never going to happen. Then, one day in June 2015, Jacques called her into their office to see a new hunting scope he had just purchased. He insisted that she open the box.
"I open it and there was my ring in the scope box," she recalled. "He had told me that he would totally catch me off guard, and he did." Little did she know that as soon as Jacques got the call to pick up the ring, he had gone over to her parents' house and asked her father for Melanie's hand in marriage. "He's a gentleman," she said.
They decided on a September wedding. "Fall is one of my favourite seasons," she said. "I have pale skin and copper hair, so the fall colours are the best colours for me."
Melanie bought her Maggie Sottero "Joleen" dress at Renewed With Love in Carleton Place. The mermaid scoop neck gown featured lace embroidery on top of tulle. The way that the embroidery fell in the back resembled peacock feathers, which was the right fit for the theme of the wedding: peacock.
"The peacock has always been my go-to animal," said Melanie. "The colours of the peacock are passionate colours and that's how we both are as individuals and as a couple." They used the purple and teal of peacock feathers as the wedding colours.
The ceremony and cocktail hour were held at a lavender farm in Luskville, followed by the reception and party across the street at the Luskville Community Centre. The lavender farm has some family history: Melanie's grandmother's family used to own the property. When the current owners purchased the farm, in addition to growing lavender, they established a winery and named one of the wines after her grandmother's family. As party favours, the couple gave out homemade soaps from the lavender farm with personalized wedding wrapping.
The wedding was catered by Shep's Catering in Aylmer, who knows Melanie's family very well. "I'm celiac, so he took care of all my allergies," she said. The wedding cake was made by one of Melanie's close friends — with a gluten-free cake top — and a dessert table of homemade, hearty treats was provided by Melanie's cousin who is part owner of Pine Lodge in Bristol, Quebec.
The rustic yet elegant wedding was a true family and friend effort: the couple enlisted their loved ones in the conception and making of the décor. "It was a DIY wedding," Melanie said. "My parents painted vases during the winter months. My grandmother and great aunt were on glue gun duty.
When you involve everybody, there are so much laughter and so many memories throughout the whole planning." In fact, Melanie's sister created an album of pictures from the whole year as a wedding gift, including touching moments from the day they got engaged to the first wedding show they attended to Melanie's father cutting wood for the centerpieces. W