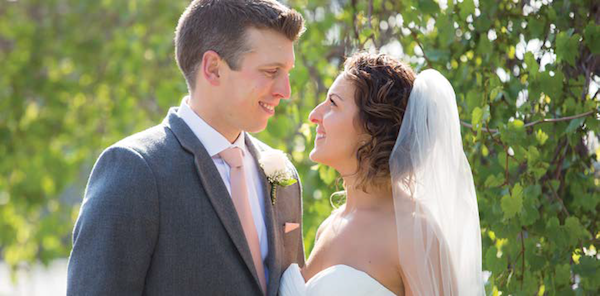 Soak in the Happiness
May 23, 2015
When Robbie took Melissa's hand for the first time, she felt butterflies. She knew she had met the one. Fast-forward to the morning of May 23, 2015 – the day Melissa and Robbie exchanged vows and began a brand new life together.
"After talking to so many brides, I woke up that morning to breathe in the day, to soak in everything, and I tried not to get caught up in all the rushing around."
Melissa and her bridesmaids planned to do everything themselves, utilizing Melissa's kitchen island to create a beauty station.
Melissa's dress came from White Satin in Ottawa's west end. "In my mind, I wanted a lace dress for a romantic, rustic look." After trying on gowns that fit this description, the bride-to-be decided to go a different way. She eventually grabbed a gown she wouldn't have normally chosen, and it ended up being the one.
Melissa's friend made her veil and hairpiece using pieces of her mother's veil. "We really wanted to include our family as much as we could in the whole process."
When she arrived at the Britannia Yacht Club that afternoon, she took a moment to look around the room and take in her surroundings, enjoying the décor in its untouched splendour.
Melissa's brothers, members of the band Noisy Locomotive, played for the bride's walk down the aisle (as well as the first dance).
Helium-filled gold-foil "XO" balloons floated behind the head table – a personal touch inspired by Melissa's "XO" necklace (a gift from her groom), and an "XO" notepad the pair uses to exchange notes. Fittingly, the bridesmaids entered to Beyoncé's hit single, XO. As soon as Melissa heard the song, she envisioned her girls walking down the aisle. "It all tied in together."
Dinner was catered by the Britannia Yacht Club and guests enjoyed a beautiful non-traditional carrot cake (the couple's favourite) created by Robbie's cousin.
A midnight buffet included delivery from 1 for 1 Pizza, white chocolate Lindt truffles, fudge and chips. "Pizza is just great. Everyone wants pizza at the end of a night."
Melissa's dance with her dad was a showstopper. "At first I was not really into the father-daughter dance. I was worried about forcing something that doesn't naturally happen. My dad and I don't dance together. But I knew Robbie's mom would really want to do a mother-son dance, so I wanted to do it on my own terms. Back in the day when I was four or five, my dad had a home gym in the basement and I'd go down with him every Sunday. He would play Italian and Portuguese music and I'd just sit down there and chill with him. I knew it needed to be something that would remind me of that."
She chose Marina by the Gypsy Kings and, as a surprise to almost everyone (including her father), Melissa and her dad took a more fast-paced tread on the dance floor. "My dad was so shocked. He didn't even think we were going to do a dance."
It wasn't long before everyone else was on their feet. "I spent the entire night dancing. It was so nice to see my family, friends and everyone having a good time."