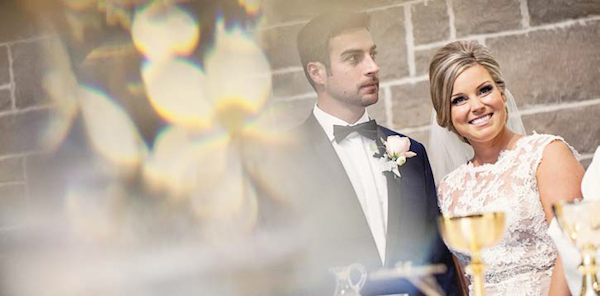 Cloud Lips on Cloud Nine
by Nicolina Leone
photos by Fleischer Photography
The wedding of Natalie McGuire and John Crupi on August 28, 2015 was brought to life by the work of many people: their planner Elise from Toast Events, friends, family.
But one man in particular made this day come to fruition: John's father.
He and Natalie used to work together and Natalie was often regaled with tales of John. After some time, Natalie was single and swayed by John's father's comments. She and John arranged to meet. After their first kiss, she was smitten and knew he was the one ("He has lips like clouds!" she had said.)
The two were married at the Brookstreet Hotel, where Natalie spent the morning getting hair, and makeup done with her bridesmaids while enjoying mimosas, treats, and laughs. She put on her Reem Acra gown, which she got from the now defunct White Dress on Preston, a soft shell, French lace, backless gown which hugged her body and accentuated her curves. Her long train would follow her down the aisle.
She readied herself for the walk, which she would be doing alone as her father had passed. With her, she carried a small picture of him.
And although that walk may have been nerve-wracking, any worries she had dissipated and were replaced with joy when she locked eyes with John waiting for her at the end of the aisle.
After they were wed, and Natalie locked with those cloud lips, the couple joined their guests for an outdoor cocktail hour, enjoying the grounds at the Brookstreet Hotel. Dinner was then served in an extravagantly decorated room. The style of the wedding was timeless, classic and romantically inspired. She wanted to transport her guests to a luxurious night filled with endlessly pouring drinks, delicious food, and elegance of decor and service. Natalie had detailed pieces such as candelabras, jewelled napkin holders, and exquisitely laid out dishware — the decor from Wedecor. Much of the layout and the design Natalie spent time planning herself.
Her bridesmaids also reflected a classic, timeless style, wearing gowns that fit their bodies well, ranging in blush tones, length, some with sparkles and shine, and some that didn't.
The men were in classic black tuxedos and the groom stood out in a dark midnight James Bond-inspired tuxedo.
She and John sat together in a loveseat at the front of the room to take in the atmosphere and enjoy their loved ones all around. Afterwards, there was no shortage of sweets from Take Another Bite in Manotick, such as macarons and cake pops, and gelato from Stella Luna.
The couple and their guests danced the night away under an elegant tent outside, taking a break only to watch the fireworks that Natalie planned as a surprise for John. The evening was truly magical — candle lit, musical, funny speeches, and huge smiles from all our guests feeling the love in the room. W