Playfully Elegant
Compiled by Pam Dillon and Photos by Tim Forbes
One August day, Rana noticed Karl as he was getting off his motorcycle at the apartment building where they both lived in Kingston. "I made a snarky comment about how it must get hot under that leather jacket."
After crossing paths a few more times, she asked him for help to take a coffee table up to her apartment. That led to a dinner date, and the start of a love story.
In the spring of 2016, he proposed. Rana had moved to Thunder Bay for an internship, and Karl decided to join her.
He was aware of the rule Rana had set for herself at age 12: "I didn't want to move in with a man unless we were engaged."
That's why, while she was dropping off the moving truck after they unloaded it, he was covering the packing boxes at their new apartment with rose petals. She returned to find him down on one knee.
"I don't remember what he said, but I remember saying yes!"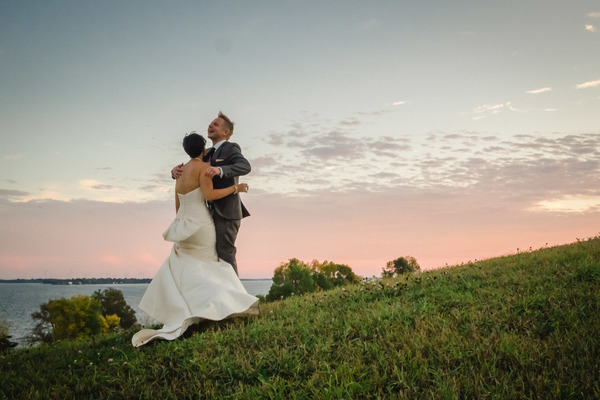 Their wedding at Fort Henry's Discovery Centre took about 16 months to organize. They booked the big items right away, then tackled the details.
"We made decisions based on what felt right to us, and what we would be most happy with looking back. We carried this attitude throughout planning, by choosing simple, timeless colours and décor, but also by being selective about which traditions to follow and which to skip. For instance, we opted to include Iranian and Polish traditions, but skipped the first dance and bouquet toss."
The result was a sophisticated wedding that was also relaxed and comfortable for guests.
To get people mingling more, Rana and Karl decided to host the cocktail hour before the ceremony and the dinner afterwards. They also decided to involve loved ones in meaningful roles.
That's why their wedding party included a bridesman, both a bestwoman and a bestman, along with a flowerpooch.
Their yorkipoo, Chanel, had a small basket tied to her back that was filled with flower petals. They scattered as she made her way about.
The couple also incorporated Iranian traditions and Polish traditions in the festivities.
"We had the traditional [Aghd] spread during the ceremony, which is an elaborate table with symbolic items for the couple. In Iranian tradition, the couple feed each other honey, and have sugar rubbed on a piece of fabric held over their heads so that they may begin their lives together with sweetness."
In addition, Karl's mother offered a traditional Polish bread and salt toast to begin the reception.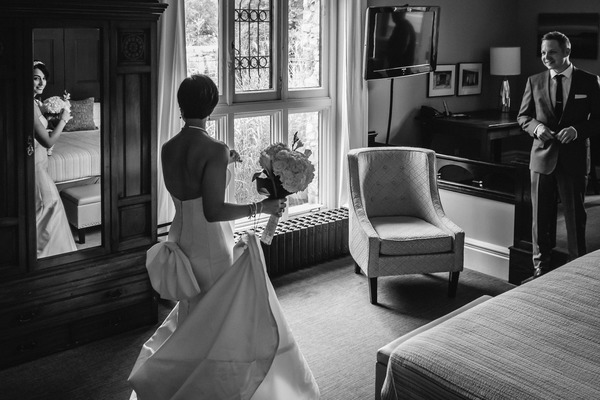 The theme for the wedding was playfully elegant and Rana's ensemble was a perfect fit. Her dress was by Maggie Sottero. A custom bow, a jacket from BCBGMAXAZRIA, and a hairpiece by Stephanie Laliberte (whose Etsy shop is Mlleartsy) completed the look.
The ceremony took place outdoors, and indoors, the wedding colours were ivory and champagne, with gold accents. Highlights included custom coasters, gold flatware, seating cards shaped like each guest's dinner selection, and a balloon wall.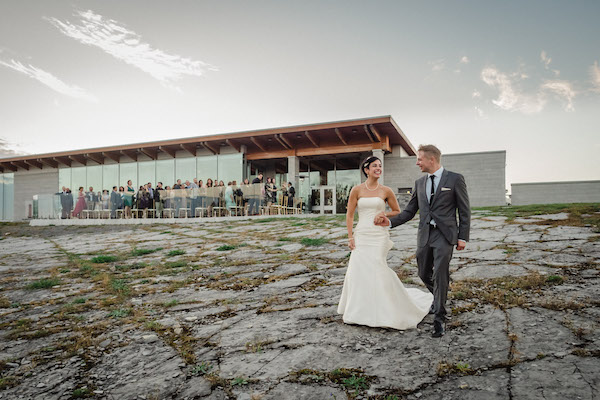 Rana's favourite moment of the day was the first look. It happened at 178 Ontario Street, the apartment building where they first met. "One of my favourite parts, in addition to the first look, was the ceremony itself," Karl notes.
They wrote their vows together, keeping a few lines to themselves until the big day. "We had fun with it, and showed our love for each other while also celebrating our quirks. I wouldn't change a thing."