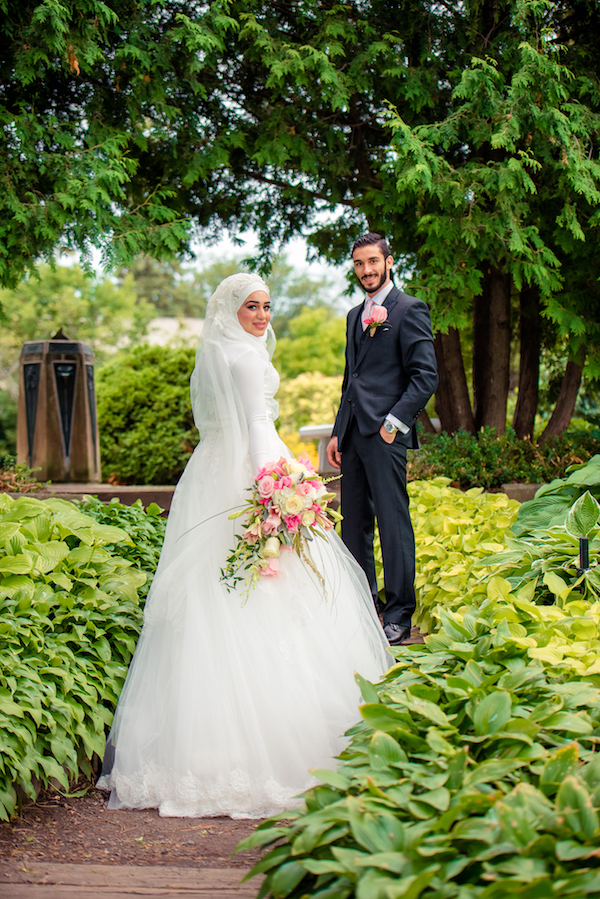 Night in Damascus, April 23, 2015
Rasha travelled over 5,500 miles to meet the love of her life. But at that point, Mohamad was just a friend of the family living in Damascus and an excellent tour guide.
"Our parents grew up together and I went to visit them on this trip. Our friendship grew quickly and we became very close. He offered to show me around the country, and that's when we fell for each other."
A proposal in the summer of 2012 catapulted this couple to plan an international celebration that would transcend borders and bring worlds together.
The pair held their wedding ceremony in the Middle East to honour those members of Mohamad's family who could not travel north. The bride donned a Venus ball gown from All That Glitters Bridal. The gown transformed into a one-of-a-kind design with custom- made sleeves and veil made from French lace, Swarovski crystals and delicate pearl accents.
"My dad chose my wedding dress, which was a very memorable moment. We decided to do a first look with the parents before the groom, and it was such a touching, emotional moment for us."
Mohamad, who wore a classic black suit, was blown away by his bride's beauty. "When he turned around, he had tears in his eyes and he hugged me so hard, I thought my hair was going to fall apart. It was a beautiful reaction and such an overwhelming feeling to have finally reached the day of our wedding and have our dream come true."
The newlyweds returned to Canada to plan a grand reception fittingly called, "A Night in Damascus." With the help of décor specialist, Pearl Decor, Rasha and Mohamad transformed Ottawa's Turkish Cultural Hall into a Middle Eastern paradise. The pair also looked to day-of coordination services from RSVP Events.
The venue, inspired by Middle Eastern architecture, was complemented with a colour palette of white, champagne and blush. Walls were adorned in white draping and the bride and groom sat in front of a round tented backdrop. Pink flowers were peppered around the tent and the setting was accented by a lounge chaise. Further floral touches were found in the form of four six-foot tall arrangements, consisting of roses, lisianthus, spray roses, antique hydrangeas, orchids and amaranthus on top of antique gold urns. "The pop of colour of champagne and blush pink really brought all the feminine decor and accessories together."
Each table was named after a favourite memory the couple shared together. Provided by Ottawa Flowers, floral arrangements were also placed on the pillars of the canopy.
The five-tier pink wedding cake adorned with sequins and handmade flowers was a delectable work of art. Created by JS Creations Cake Emporium, the red velvet sweet treat was suspended from the ceiling atop a bed of flowers.
Their 100 guests were gifted mosaic jewellery boxes made of pearl shell and rose wood – a special favour that made the trip from Damascus.
Traditional Syrian dancers and musicians took to the floor near the end of the evening to treat guests to sounds of Mohamad's home.
Rasha and Mohamad planned a day that incorporated all of the elements that speak to their cultures, their personalities and their love for one another. "I really wanted my wedding to be a portrait of my personal style – classic, traditional, and romantic. My true vision came to life for my wedding day." W