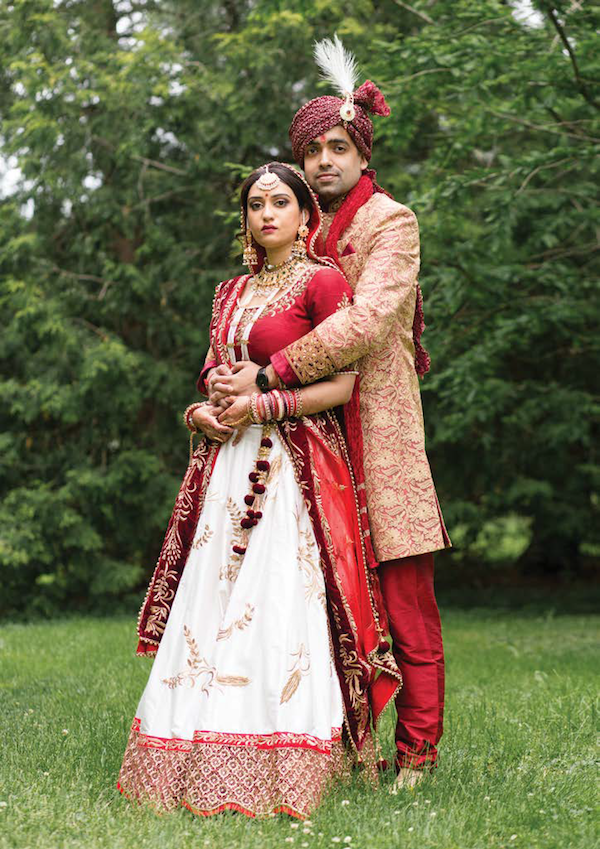 A Family Affair from Far and Near
June 12, 2016
compiled by Nicolina Leone
photos by Union Eleven
Roma, who is from Gujarati, and Dhruv from Deli, both come from large families. And in keeping with their traditions, the celebrations were tenfold.
They had loved ones travelling from as far as Europe, India, and Hong Kong a week before their wedding, and with those guests came the festivities.
The Thursday before the wedding in particular was a full day. "We had the Graha Shanti — a ceremony with close family," explained Roma, "This kicks off the wedding with prayers to gods and planets to make sure all goes well and to thank them." Afterwards was the Haldhi — where women of the family rub turmeric paste on the bride's face, arms, and legs. Turmeric makes the skin smooth and glow. And in the evening, the henna party — another cultural tradition to beautify bride.
On Friday was the Sangeet, "Which basically means music — we had a music party," Shah said. "We tried to keep it relatively small, so there were 140 people there." This wedding was a fusion of two different cultures and traditions. This party is more traditional of Northern India, where Dhruv is from, but they incorporated dances from Roma's home in Gujarat. Fortunately Roma was able to take a break Saturday, aside from creating the seating chart for 350 people for the next day.
On Sunday, June 12, Roma was up at five a.m. to start getting makeup and hair done and to get dressed — which was quite a process with the pinning and hanging of the elaborate gown that Roma designed herself with the help of a friend.
It is traditional for the bride's side to receive the groom's, so Dhruv entered the hall at the Centurion in a procession with dancing and music, called a Barat. The couple was trying to replicate how a groom would travel to the bride's town on the wedding day with music and dance, so the whole town would know of the wedding.
A series of rituals were performed before and after Roma's arrival signifying acceptance into one another's families and the final bonding of their lives together. After the ceremony the couple returned in the evening for dinner, provided by the East India Catering Company, and dancing.
From that point on all was fun, feasting, and dancing. Roma and Dhruv credit the success of the day to the support of their friends and family. "I have a tendency to micromanage, but my dad and dad's best friend and uncle were my wedding planners and because of that, everything went off without a hitch. I was super calm during the day.
I was just trying to take it all in and enjoy, remembering the moments. I was just so happy and filled with love."
The couple had a great time dancing into the night and literally closed out the dance floor after negotiating an extra half hour. "We would have partied for longer."
"This wedding — because it's so many people and we had under a year to plan it — was a lot to plan and it was pretty tough. I am so thankful for my family for making it." W