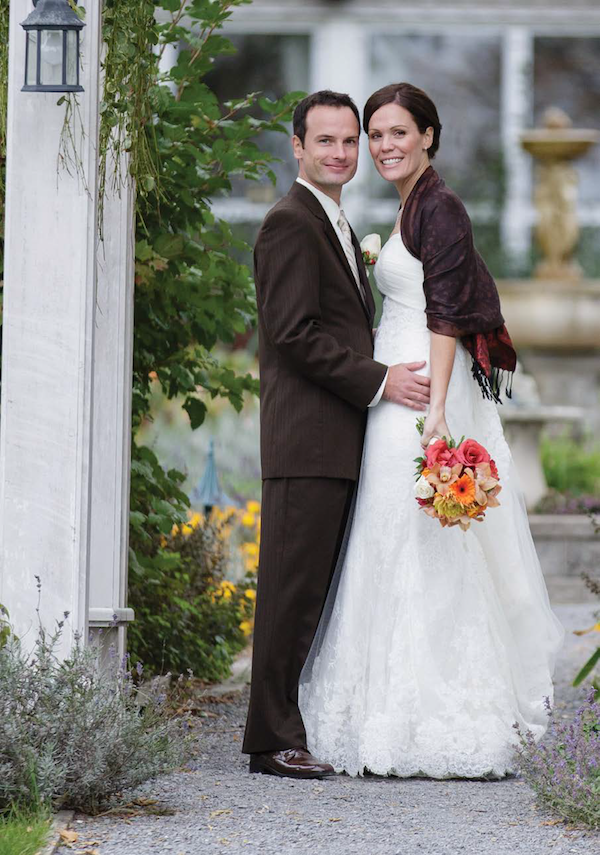 Falling in Love
October 13, 2012
compiled by Lindsay Ruck
photos by Sarah Rouleau Photography
Sarah and David Ryding met on the first day of classes at Ryerson University.
"We walked to our second class of the day together. We were both new to campus and didn't know where we were going."
They've been inseparable ever since.
Following a proposal in 2012, the pair began planning an intimate fall wedding that would include 50 of their closest friends and family members.
"Autumn is a beautiful and romantic time of year. We wanted to incorporate the vibrant fall colours and harvest theme into our decor."
That combination of romance and beauty was the perfect inspiration for the theme of Sarah and David's special day: Falling in Love.
The Waring House, a country inn in Picton, Ontario, ticked all of the boxes for the dream wedding venue, providing space for the ceremony, reception and guest accommodations.
"We wanted our guests to enjoy a pseudo- vacation while attending our wedding."
A wedding and event coordinator was on-staff at The Waring House for assistance where needed, however the couple opted out of an official wedding planner, taking on the bulk of the preparations themselves.
"It was important to us that all of our guests be attendees; able to enjoy themselves without having a role in the planning and preparation of our special day. This was our gift to our friends and family for supporting us and our relationship."
Another gift for guests from the couple was a pre-wedding pub night. Hosted in The Barley Room at The Waring House, those in attendance enjoyed food, spirits and music.
"It was a fun and casual night before the formal occasion."
The following day, Sarah walked down the gravel path on her father's arm donning a La Sposa gown purchased at Baroness Bridal in Ottawa. Featuring a lace overlay and small train, the gown was the perfect complement to the romantic and intimate feel of the day. It was also a wonderful surprise for the groom, who admits he couldn't take his eyes off of his beautiful bride.
Orange, brown and accent fall colours were found throughout the reception site. The couple carved pumpkins to cradle the beautiful floral centrepieces, arranged by Nancy Graham of Avenue Florist. Chrysanthemums and lanterns peppered the space and Sarah and David sourced old barn windows to display the seating plan.
The couple's parents' wedding photos were also prominently displayed as a tribute to their lasting love. "They are our relationship role models, as both couples have been married for over 40 years."
In lieu of a cake, the newlyweds served an assortment of squares and tarts, which were anchored by Sarah's grandmother's wedding cake topper from 1946.
Sarah and David started and completed their university studies as a team; planned and executed a beautiful wedding as a team; and so it is no surprise that the inscription on their wedding bands read: "We are a good team."
"This is our mantra. A reminder that we are in it together, for better or for worse. Always."
Thank you for sharing your story – OWM.W