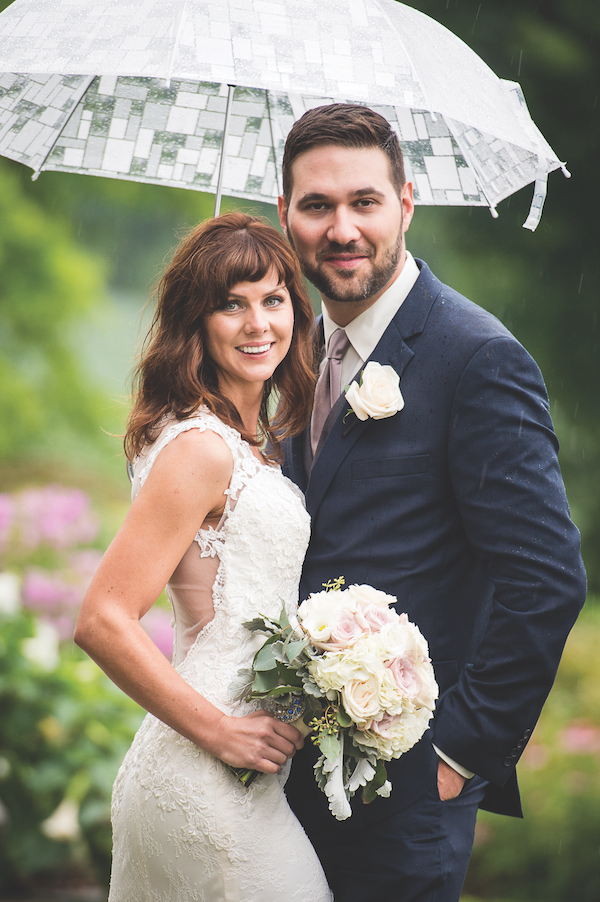 A Personal Touch
By fluke, Sarah and Joe got married eight years to the weekend that they met. Sarah, a social worker, and Joe, a nurse, met in 2008 while both working at the Brockville psychiatric hospital. "Joe ended up resurfacing and working more shifts on my floor," she said. "We both have a love for healthcare and passion for helping people."
They moved to Halifax four years ago, with Sarah taking a position in the mental health field and Joe teaching nurses at a community college. They travel home quite often and it was just before they were set to travel to Kemptville for Christmas in 2015, that Joe proposed.
The couple had agreed to exchange ornaments instead of gifts. Sarah had gotten off a night shift on Christmas Eve Day and Joe was adamant about exchanging ornaments before getting on the plane. "Hallmark had come out with a series of 12 ornaments called Ring in the New Season," she said. "He got me the first ornament of that series and on it engraved, 'Will you marry me, Peanut?'" This year, they got the second ornament in the series with their wedding date and plan to continue the tradition.
Sarah found her wedding dress at Chester and Felicity in Halifax. The dress, from the Enchanting collection by Mon Cheri Bridal, was an A-line silhouette with lace overlay. She especially loved the back of the dress. "It was a little revealing, but a little not," said Sarah. "What I liked was it was simple. We tried to carry that forward through the whole wedding."
Wanting a backdrop of greenery, Sarah and Joe were impressed with Weddings on the Rideau in Kemptville, a brand-new venue that featured the beautiful landscaping. They worked with Amie Jackson from Custom Events to bring their garden wedding vision into the venue's white atrium, incorporating greenery and brown boxes on the tables. "It was a garden-outdoor-brought-indoor feel," said Sarah.
There was a downpour on the wedding day, but that didn't stop the bridal party from having a little fun. They took pictures at nearby Willowstone Chapel and Garden, complete with umbrellas. "At one point the bridal party broke out into 'You Are My Sunshine,'" recalled Sarah.
They wanted to the wedding to be intimate and informal with closest friends and family and chose to not have a seating plan or even a head table. "We just wanted everyone to enjoy being able to sit with one another and mingle as they wish," she said. They wanted to keep everything as local as they could. "Everything we did for the day was a small business affiliated with Kemptville or attached to Weddings on the Rideau," said Sarah.
To incorporate their Scottish heritage, they included Scottish thistle in the table centerpieces. They also had a heart in a tartan design on their guest favours: saltwater taffy to bring some out east feel and heritage, as they both have extended family in Halifax.
"It was a day to remember," said Sarah. "There are a lot of really great folks involved in our wedding day. From the simple charcuterie board from local Kemptville to our photographer, it really had a personal feel. It was really what we had wanted: personal and down-to-earth."