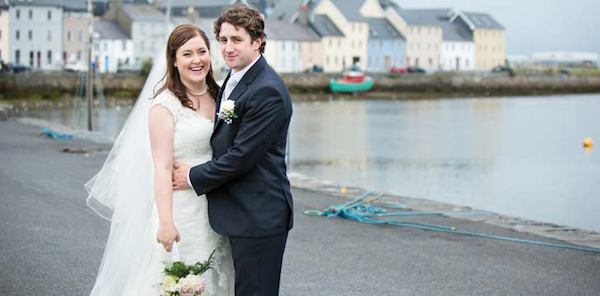 Luck of the Irish
October 3, 2014
When Irish eyes are smiling, sure, they steal your heart away.
These lyrics could not be truer for Shannon, who in 2009 was attending law school at the National University of Ireland, and Morgan, a native of Galway City, Ireland.
After meeting in a pub in Galway City, the pair stayed on the North Atlantic island for a few more years before moving to Ottawa for Shannon to complete her training.
A made-for-movie proposal came during Easter weekend 2013 at the Ottawa International Airport. Morgan purchased the sparkler in Galway with the plan of proposing to Shannon in May when they would be visiting Ireland, but his parents, and eventually Morgan, didn't see the point in waiting any longer. On his return to Canada, while on layover in Toronto, Morgan called Shannon's father, and with the go-ahead, Morgan asked Shannon to be his wife upon landing in the nation's capital.
The pair returned to where their fairytale romance began to tie the knot.
"Since we planned from Canada, Morgan's family was an amazing help. We relied greatly on Morgan's mom, Noreen, and his sister, Martha, to help us with some of the organizing we couldn't do from Canada. Also, Siobhan McIntyre, our wedding coordinator at Galway Bay Hotel, was so easy and accommodating to deal with from across the pond and helped us greatly with the details surrounding the reception."
Before arriving in Ireland, the bride found her gown at Juliannah's Dress and Bridal in Moose Creek. The lace Eddy K gown, described by the bride as "so comfortable," was the perfect find for dancing until 4 a.m.
On a clear day in October, Shannon entered the small hallows of St. Patrick's Garrison Church in Renmore, Galway on her father's arm.
The ceremony was a true family affair, as Morgan's uncle, Father Patrick Whelan, officiated the nuptials, and Morgan's cousin, Ailbhe Hession, provided the music for the special day.
The reception took place at the gorgeous Galway Bay Hotel, which overlooks Galway Bay. To ensure an Irish-Canadian celebration to remember for their 120 guests, the hotel shipped the Canadian flag to the venue, the DJ spun a few Canadian tunes, and all guests were treated to maple syrup favours.
"We brought five litres of Canadian maple syrup," – a combination of real syrup from Shannon's family's farm and from Sands Road Maple Syrup in Moose Creek – "complete with glass maple leaf jars over to Ireland."
Guests also enjoyed a delicious three-tiered cake made by Morgan's cousin and aunt.
"Flavours of the tiers were vanilla, red velvet and our favourite – Irish biscuit cake."
The key to this Irish-Canadian wedding was the unmeasured support from loved ones.
"Due to all of their help, our wedding was extremely personal and so relaxing. We really enjoyed the day and didn't have to worry about a thing!"
Keeping in tune with Irish traditions, this wedding continued its celebrations the following evening.
"Irish weddings tend to last a few days. The location had plenty of meaning to us as it was held at Whelan's pub, a pub that has been in Morgan's family for generations and is still family-ran."
The venue is located outside of Galway, in a small village called Shanaglish.
"This night was a favourite for us and I think everyone else who came would agree. We arranged for a family friend to provide traditional Irish music. Lots of Guinness and a good sing-song!"
After multiple gatherings and quality time with family and friends who travelled near and far, the bride and groom settled into life as a married couple, basking in the glow of an unforgettable celebration across the pond.
"Our main focus was to ensure we had a great Irish-Canadian celebration and that our guests had a good time and those who travelled had an unforgettable visit to Ireland."