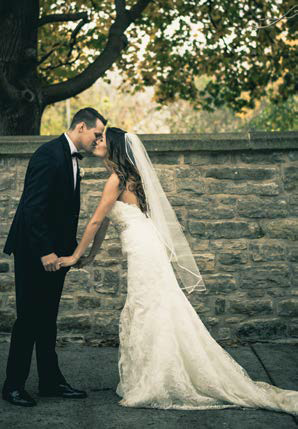 Message in a Bottle
October 18, 2014
A perfect proposal is one you remember for the rest of your life. Elements may include a setting sun in a tropical paradise. Turquoise water rolling onto pristine white sand. A bottle of bubbly and flutes for two. And the love of your life on one knee holding the most beautiful bauble you've ever seen. Tara and Gino's moment in time had all of those things – a memorable way to celebrate their one-year anniversary in Maya Riviera, Mexico.
"[Gino] led me up to a lifeguard hut on the beach and told me he had a surprise for me. The entire lifeguard hut was decorated in Tiffany blue ribbon. We enjoyed the sunset and reminisced about all of the adventures we had already taken and how many more we wanted to take together."
Gino told his bride-to-be to look for her second surprise of the night buried in the sand. "It was a bottle with a secret message and red rose petals inside. I brought it back up and opened up the message and immediately the water works started."
Turning to see Gino on one knee, ring in hand, Tara read, Tara Ann Irene Towes, will you marry me?
The newly engaged couple returned home to begin planning an intimate and romantic wedding that would include 75 of their closest friends and family members.
As a marketing coordinator, Tara was determined to handle every detail of her day. "My mom, nan and I planned every detail and made every piece of décor by hand."
The DIY-filled fall wedding took place in Perth, Ontario. The quiet and quaint small town ticked all boxes for this bride and groom.
On October 18, 2014, Tara entered St. Andrew's Presbyterian Church with her step-father by her side. The bride's ivory lace Stella York gown and Swarovski crystal belt was found at Ottawa's With Love Bridal Boutique. Pinned into her bouquet was a locket containing photos of Tara's great-grandmother, who was unable to attend the special day, and Gino's grandmother, who had passed away just months before.
After exchanging vows, guests were invited to celebrate with the newlyweds at The Stone Cellar – a warm, rustic and inviting restaurant the couple stumbled upon while searching for venues on a snowy winter's day. The restaurant's beautiful wood floors and stone walls were the perfect backdrop to this couple's delicately handmade day. Eucalyptus green and cream with accents of plum were found throughout the décor, along with more than 100 candles for a soft, romantic glow.
"I wanted the entire venue to smell of eucalyptus and flowers." Thanks to Ottawa Flowers, Tara's vision was brought to life. The enchanting scene featured eucalyptus, eucalyptus seed, white ranunculus and white roses bursting out of vintage wooden boxes. Eucalyptus branches were peppered throughout the venue, along with 12 dozen white roses.
Signs were hand painted by the bride, bride's mother and bride's grandmother. Tara's grandmother also added her loving touch to signature cookies and a delicious carrot cake wrapped in decadent cream cheese icing.
"Gino loves cookies, so having cookies and milk at the wedding was special to us."
Tara's grandmother also embroidered hankies with the couple's initials for each woman in attendance. Ladies were also given a teacup holding a succulent, while the men received their own mini bottle of Honey Jack Daniels.
"When you sit there for months and hours creating everything by hand with your family; every single detail inevitably becomes special to you. Knowing that my mom redid the calligraphy on signs to get it just perfect and spent days gold-foiling my bar cart because I preferred it gold; all of these little details are so heart-warming."
But the most heart-warming memory of all was the amount of love present throughout the day. "From the moment I walked down the aisle, to the speeches that lasted two full hours, almost every guest at our wedding teared up at some point during the night. The amount of love between Gino and I [and] our love for our families and our friends was taking over the entire room. It was so small and intimate and close that it made for such an emotional, raw and real wedding."