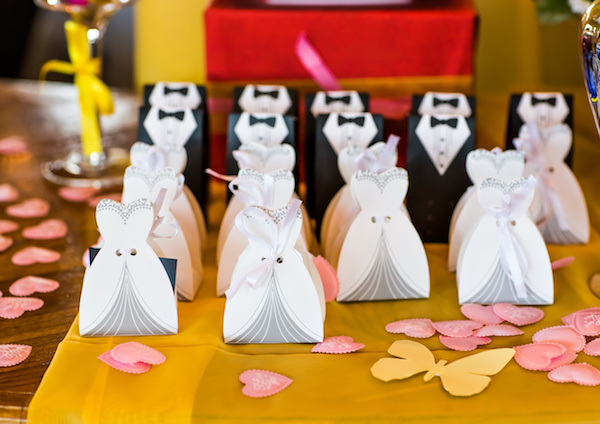 Are you planning to offer wedding favours to the guests on your special day?
These customary small gifts are a lovely way to show your friends and family members how much you appreciate their presence. They're also a way to share your good fortune and happiness with others. You don't have to spend a fortune or send yourself into a Pinterfrenzy to come up with a small, meaningful memento people can take home.
Seed bombs, homemade truffles, s'mores kits, decorated cookies, succulents, bath salts, honey, homemade jam, handmade soap … there are tons of different options. And it can be a lot of fun coming up with the perfect gift and dolling it up for your favourite peeps.
The important thing is to package your gift attractively, incorporating your wedding colours and style.
Certainly, this isn't a wedding trend. It's a time-honoured tradition that has spanned centuries.
A Google search suggests the custom of offering favours started with the French aristocracy and they were originally called bonbonnieres. A small gift given to guests at upper class weddings, a Bonbonniere was a trinket box, made of precious stones or crystal, that contained a sweet treat or sugar cubes. In that era, sugar was a rare, prized luxury, a symbol of riches, and people believed it had medicinal properties.
As sugar became more commonplace (and, thus, less prestigious), it was replaced with other, often symbolic, wedding favours. Over time, in different cultures, almonds were often given as wedding favours.
According to nuts.com, "Giving each guest Jordan Almonds as wedding favors comes from both Italian and Middle Eastern wedding traditions? Some experts date the candy custom back to the Victorian Era.
"Traditionally, wedding guests are each given five Jordan Almonds, signifying the following sentiments: Health, Wealth, Happiness, Fertility & Long Life. Many brides and grooms word this traditional meaning in a poem to their guests on the favor label."
Today, the giving of wedding favours is a custom that is shared by communities and cultures and families around the world.
However, you can be as creative as you wish in choosing exactly what you want to give. Enjoy the opportunity.