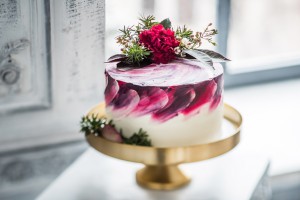 Like It Too! …
Not sold on the idea of a wedding cake, just so you can have the old-style "cutting the cake" ceremony and photo for an album?
Fear not, girlfriend.
And think outside the square cake pan!
You don't need to cut anything or feed your new "Other Half" a hunk of cake in front of a large crowd. You also don't need to settle for one of those old fashioned, multi-tiered fruitcakes with rock-hard icing that can be cut in slabs to use as hockey pucks at a later date.
You can have your fave treat and eat it too. While the wedding cake has been a matrimonial tradition for centuries, today's brides aren't sticking to any outmoded rules about columns or tiers or ingredients.
There are all kinds of gorgeous and delectable choices, from sweets tables to macaroon or cupcake towers. Chocolate, vanilla, strawberry, red velvet or carrot – name your flavour and your vision; there's a professional who can make it happen for you. Cheesecake? Yes. Tarts? Why not?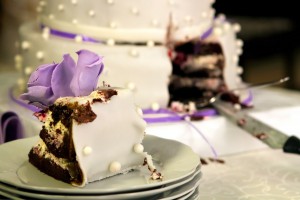 You've gotta love your wedding cake.
Whatever you choose, it can be a showstopper and it can also reflect both your tastes and the theme for your day. Glamorous? Sporty? Urban chick? Country casual? Celtic? There's a cake for that!
Certainly, you can opt for the classically elegant, multi-layered white affair adorned with a topper, but you can also order an asymmetrical creation in jewel tones. The icing does not have to be white. Heck, you can even skip the icing if you choose.
The same thing goes for the cake topper. You can replace it with fresh or sugared flowers, you can go the conventional route, or you can have a custom-designed cake topper that reflects your shared interests or professions.
Some people choose humorous cake toppers, while others choose rustic or metallic adornments. There's no question, though, you'll have fun sampling the different options!