Want to give your Significant Other some TLC? Show her or him you care by cooking up some scrumptious, healthy treats this weekend.
The emphasis is on health and great taste in these two Nutrition Month recipes from Dietitians of Canada.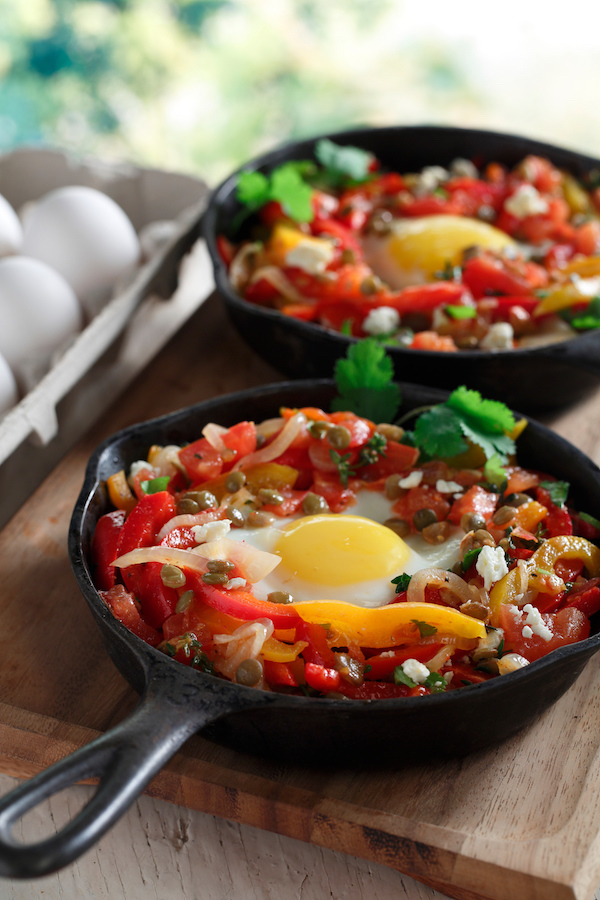 Baked Eggs with Lentils, Peppers and Tomatoes
Servings: 8
Ingredients
1 tsp cumin
1 tsp coriander
2 large onions, thinly sliced
2 tbsp olive oil
2 garlic cloves, minced
4 bell peppers (mixture of yellow, orange, red), sliced into 1/2 inch strips
1 tbsp honey
2 bay leaves
1 tbsp chopped thyme
1/2 cup chopped cilantro (reserve some for garnish)
10 large Roma tomatoes, chopped
1 tsp smoked paprika
sea salt and ground black pepper, to taste
1 cup cooked or canned green lentils, drained and rinsed
8 large eggs
1/2 cup feta cheese, crumbled
Directions
PREHEAT oven to 400 ⁰F. in a large, ovenproof sauté pan over medium high heat, cook the cumin and coriander for two minutes, stirring often. Add onions and olive oil, and sauté five minutes. Add garlic, peppers, honey, bay leaves, thyme, cilantro, and cook for five minutes, stirring often. Add tomatoes, paprika, and season with salt and pepper. Reduce heat to medium low and simmer for 10 minutes. Stir in cooked lentils and cook seven minutes longer. Remove bay leaves.
Continue in your ovenproof sauté pan, or divide lentil sauce into eight individual ovenproof skillets or ramekins. Make eight indentations in the sauce and crack an egg into each. Sprinkle with crumbled feta cheese. Bake for 15 minutes or until eggs are cooked to desired doneness. Garnish with chopped cilantro, and serve immediately.
Source: Cookspiration.com.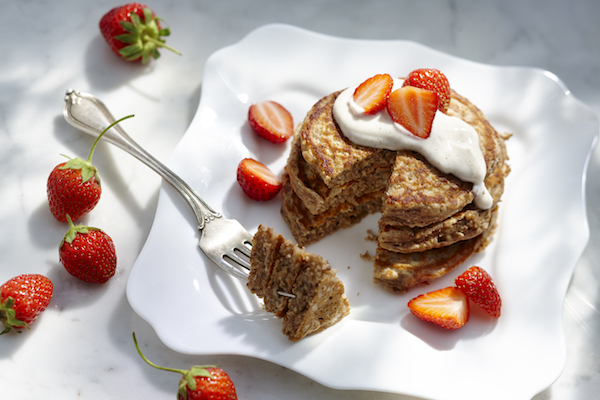 Cinnamon Multigrain and Yogurt Pancakes
Servings: 6
1 cup quick-cooking rolled oats
1/2 cup multigrain hot cereal (uncooked)
1 2/3 cups milk
3/4 cup whole wheat flour
2 tsp baking powder
2 tsp ground cinnamon
1/4 tsp each, baking soda and salt
1 egg
1/2 cup plain yogurt
1-1/2 tbsp butter, melted, divided
1 tbsp maple syrup or liquid honey
1 tsp vanilla extract
Cinnamon Yogurt:
1/8 tsp ground cinnamon
1/2 cup plain yogurt
1 tbsp maple syrup or honey
1/4 tsp vanilla extract
Fresh fruit
Instructions
In a medium bowl, combine multigrain cereal, oats and milk; let soak for 15 minutes.
In a large bowl, whisk together flour, baking powder, cinnamon, baking soda and salt.
Whisk egg, yogurt, 1 tbsp of the melted butter, syrup and vanilla into cereal mixture. Pour over flour mixture and stir just until combined. Set aside for about five minutes while preparing yogurt.
For the cinnamon yogurt, combine cinnamon, yogurt, syrup and vanilla. Set aside.
Heat a large non-stick skillet over medium heat. Brush with a thin layer of remaining butter. Ladle about 1/4 cup batter per pancake into skillet. Cook for one to two minutes or until bottoms are golden and edges look dry; flip over and cook for one to two minutes longer or until golden and puffed. Repeat with remaining batter, brushing skillet and adjusting heat as necessary between batches. Serve pancakes with cinnamon yogurt and fresh fruit.
Source: Cookspiration.com.